INEOS Hygienics becomes official hand sanitiser supplier of Tottenham Hotspur
---
INEOS Hygienics to provide high purity hospital grade sanitiser to players, staff and fans across the Club
State-of-the-art touchless technology ensures product is dispensed safely across different areas of stadium campus and training facilities
INEOS Hygienics' precision-designed, Swiss-engineered dispensers make their Premier League debut at Tottenham Hotspur Stadium
---
INEOS Hygienics, the global healthcare brand, has become the Official Hygiene Supplier to Tottenham Hotspur Football Club and the Tottenham Hotspur Stadium.
INEOS Hygienics is supplying the Club and the stadium with state-of-the-art touchless sanitiser dispensers, delivering hospital grade sanitiser to Spurs' players, staff and fans, in order to maintain good hand hygiene and reduce the spread of viruses and bacteria.
Built to be robust yet stylish, the touchless dispensers have been designed to blend in with all environments and efficiently dispense hospital grade sanitiser. The dispensers will be used in the player dressing rooms, hospitality areas at the Club's world-class stadium, as well as its Enfield Training Centre and across the Club's executive offices.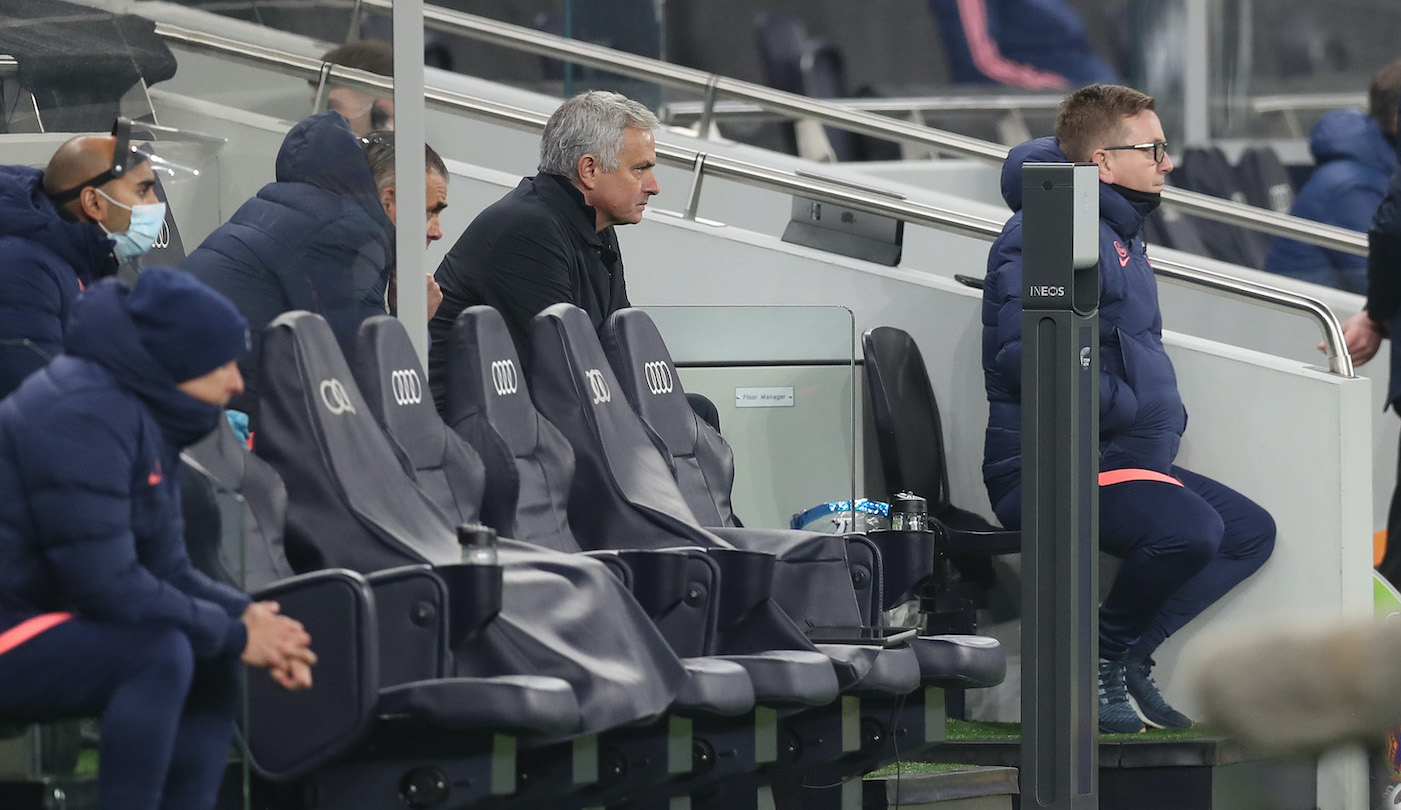 This is the first time the precision-designed, Swiss-engineered dispensers have been used in the Premier League, further building on INEOS Hygienics' sporting credibility in football, Formula One, cycling and sailing.
INEOS Hygienics is also supplying personal hand sanitiser to players across the Men's and Women's First Teams and Academy as well as staff to help keep them safe when travelling and at home.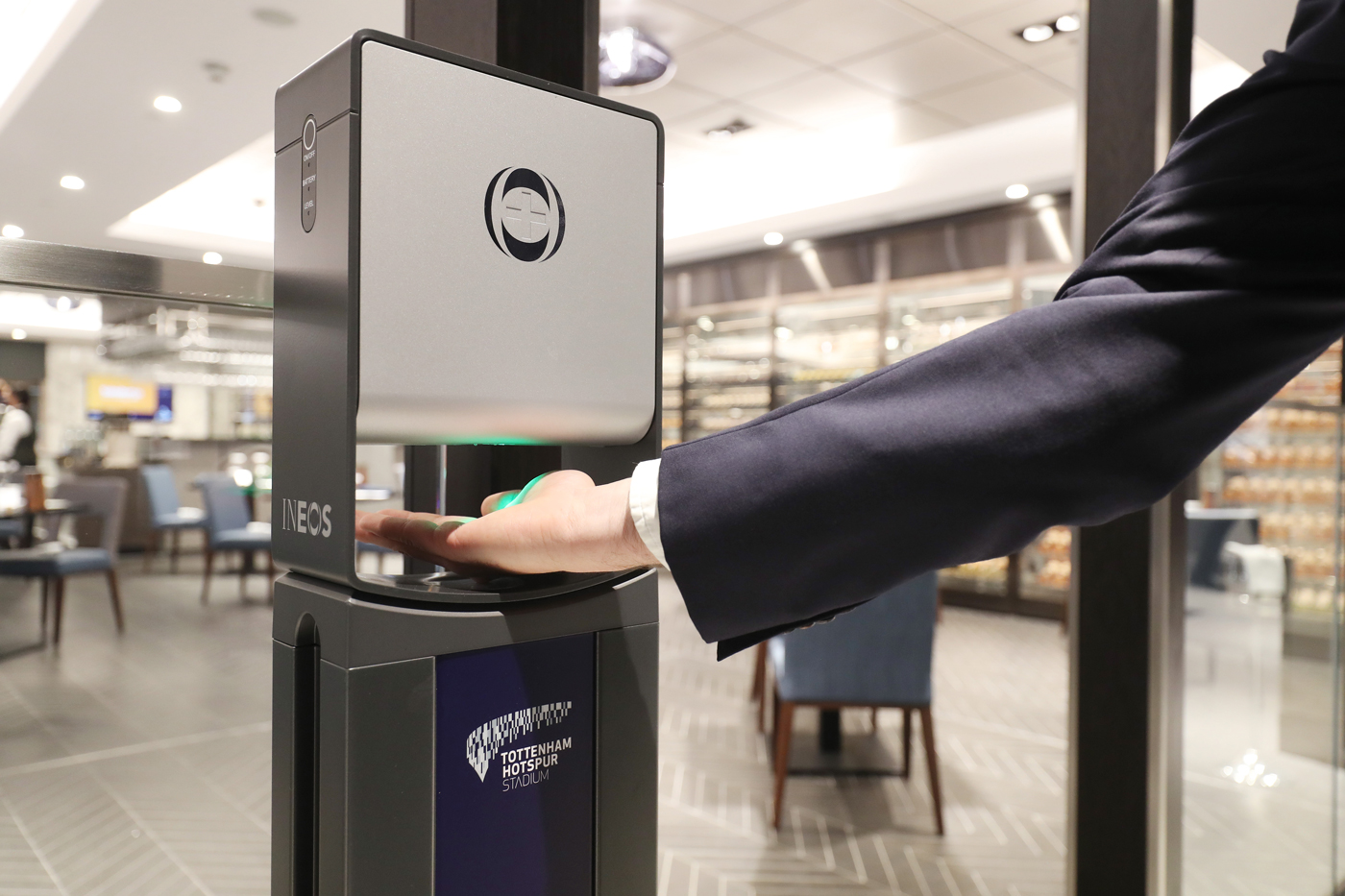 George Ratcliffe, COO of INEOS Hygienics said: "We're proud to be able to partner with Spurs and supply the Club and the stadium with our new range of touchless dispensers and hospital grade sanitiser. As the first Premier League club to use our dispensers and hospital grade hand sanitisers, it shows the importance the Club is putting on good hand hygiene to help keep the players, staff and fans safe.
Fran Jones, Head of Partnerships at Tottenham Hotspur said: "The COVID-19 pandemic has made everybody change their behaviour and further underlined the need for good hygiene practices. It is essential that the Club supports and facilitates those changes in order to create safe environments across our estate including our stadium, training centre and executive offices. INEOS Hygienics offers us a high purity, hospital grade sanitiser, which protects our Men's and Women's teams ensuring they can continue to train and play matches, as well as our staff and, of course, our fans."
Created during the COVID-19 global pandemic, INEOS Hygienics was established to meet the global shortage of hand sanitiser. As the world's largest producer of high-purity synthetic ethanol which goes into sanitisers, INEOS built six plants in 10 days each in the UK, Europe and the US, and provided millions of bottles of product free to the NHS and hospitals across Europe and the US at the height of the pandemic.
As the world came out of lockdown over the summer, INEOS Hygienics shifted its focus to provide the same hospital grade sanitiser to the public, to help keep people safe and places open. INEOS Hygienics also ran a back-to-school campaign called ZERO Days: Back to School to support the reopening of schools across the UK by providing free resources for assemblies, classrooms and communal areas that helped inform young people about the importance of hand hygiene.
As well as supplying product to the Club, INEOS Hygienics will be working with Spurs throughout the partnership on ZERO for elite sport; a programme that has been developed by Sir Dave Brailsford and helps elite sports teams reduce the number of days lost to preventable illness and injury.
ENDS
NOTES TO EDITORS
Media Contacts
Richard Longden (INEOS)
Richard.longden@ineos.com
+41 (0) 799 626 123
Andrew McLachlan (Media Zoo)
Andrew@mediazoo.tv
+44 (0) 20 7384 6980
+44 (0) 7931 37716
About INEOS Hygienics
INEOS Hygienics is a global healthcare brand, which started during the Covid-19 pandemic to meet the global shortage of sanitising products. In just ten days each, six plants were installed in the UK, US and Europe to start producing hand sanitiser. Each plant is designed to produce 1 million bottles of hand sanitiser every month, this large volume of which was distributed for free to hospitals in the UK, US and throughout Europe.
Now, INEOS Hygienics is providing the same hospital grade sanitisers to the public. Available to purchase on Amazon and in other retailers and pharmacies across the UK and Europe, INEOS Hygienics produces a range of hand sanitiser gels, sprays and wipes in a variety of volumes and pack sizes.
INEOS Hygienics also produce touchless hand sanitiser dispensers for the home and business. The dispensers for home come in four different colours, while the business dispenser is customisable for brands. Free-standing, table-top or wall-mounted, the dispensers feature touchless dispensing of hospital grade sanitiser, variable dosage settings, rechargeable lithium-ion battery, and lights to indicate low battery life and low cartridge levels.
About Tottenham Hotspur
Founded in 1882, Tottenham Hotspur Football Club has a tradition of playing an entertaining and attacking style of football. The English Premier League Club, based in North London, reached the final of the UEFA Champions League for the first time in its history in the 2018/2019 season.
In April 2019, the Club opened a new 62,303-seat stadium that sits at the heart of a £1billion sport-led regeneration of North Tottenham. The stadium is the largest football club stadium in London and is a multi-use venue with the ability to host a variety of events 365 days a year, including NFL, rugby, concerts and other major events.
When complete, the stadium development scheme will support 3,500 new jobs with £293m pumped into the local economy each year – an increase of 1,700 new jobs and £166m in local spending per year
Tottenham Hotspur also has:
A fan base of more than 460 million followers worldwide including 278 highly engaged, mobilised and official Supporters' Clubs
A £100m state-of-the-art Training Centre that supports the Club's ambition to attract, develop and retain the best talent.
An award-winning Foundation that has created three million opportunities to help enhance the lives of people in its local community through education, employment, health and social inclusion programmes
Share this Article: