INEOS monitors its pollution through a company-wide data platform. It is committed to complying with all regulations and implements measures across its sites to reduce environmental and social impacts of pollution. We also require that our suppliers do the same through our Supplier Code of Conduct.
Excellence in product stewardship is essential to our business and our company-wide REACH network ensures we meet all regulatory requirements whilst identifying opportunities to substitute hazardous substances for more sustainable alternatives, where they exist.
AVOIDING POLLUTION TO AIR, WATER, AND SOIL
Safe handling and containment of chemicals and products is our highest priority. Our processes, operating procedures and working practices are designed to secure containment of all products and raw materials. The loss of containment of any materials is extremely rare, but any accidental emission of material is reported to the authorities according to the local regulations. To avoid or keep such risk to a minimum, we closely monitor all systems. We have internal reporting systems in place that trigger online reporting and full internal investigation when there is any loss of containment that is 10% of the reportable level. We call these LOC10s.
By sustained focus and continuous improvement, over the last eight years we have reduced the frequency of these minor losses by over a factor of four.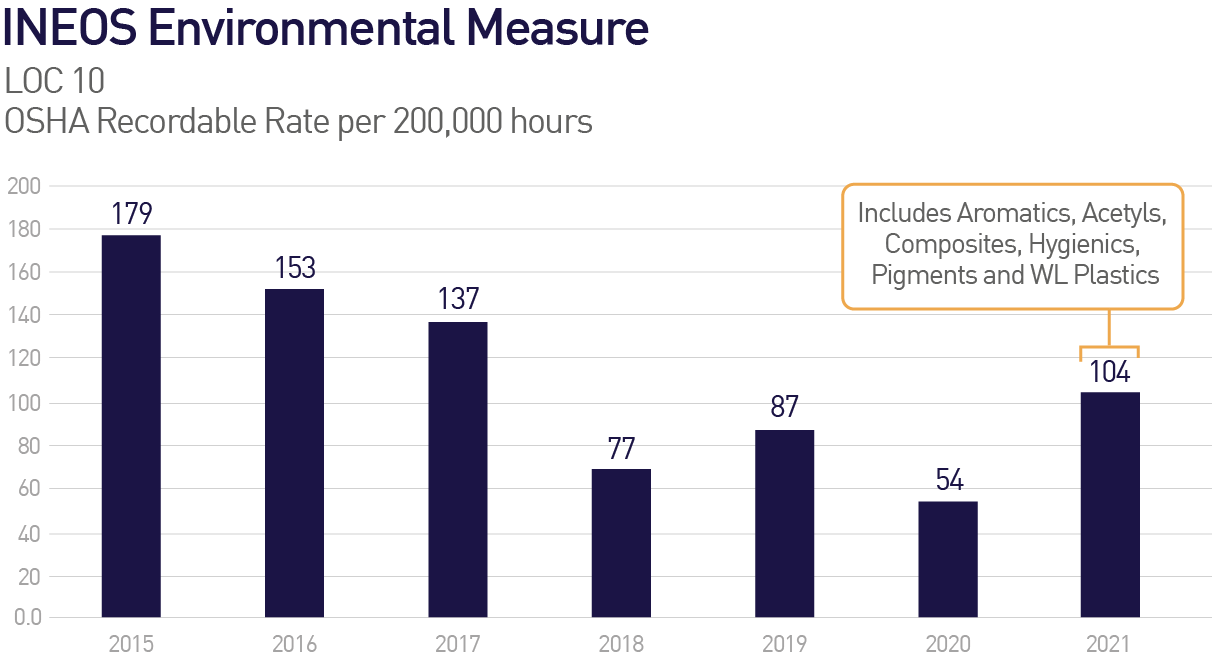 PREVENTING POLLUTION IN THE VALUE CHAIN
INEOS is committed to advancing towards zero pollution in its value chains. We consider it a priority to prevent chemical pollution downstream of our operations through effective product stewardship and sustainable product innovation. We expect all our partners to comply with relevant environmental laws, use resources responsibly, and minimise negative impacts relating to pollution. The INEOS Supplier Code of Conduct, requires our suppliers to manage their emissions to air, water, and soil, and follow Responsible Care principles when managing chemicals. This extends to our suppliers participation in the Operation Clean Sweep initiative if they handle plastic pellets.
To see the sustainability associations and initiatives we are signed up to, please click on the below link: