Published Date: 28th July 2021
| Project | Contribution to NET ZERO Roadmap | INEOS group company |
| --- | --- | --- |
| Ongoing upgrade to LED lighting (2021-22) | 300 tonnes CO2e per annum | Site wide programme |
| New Energy Plant (NEP) – improving efficiency, reliability & operability. (2023) | 150,000 tonnes CO2e per annum in FY 2024 | Site wide programme |
| New F10 Furnace for Ethylene Cracker - reduction in energy consumption per tonne finished product (2021) | 10,000 tonnes CO2e per annum | INEOS O&P UK |
| Flaring Reduction due to process optimisation in polypropylene production (2023) | 4,700 tonnes CO2e per annum | INEOS O&P UK |
| Refinery Repositioning Project (2021) | 250,000 tonnes CO2e per annum | Petroineos |
INEOS HAS AN INTEGRATED APPROACH TO SUSTAINABILITY AND CLIMATE CHANGE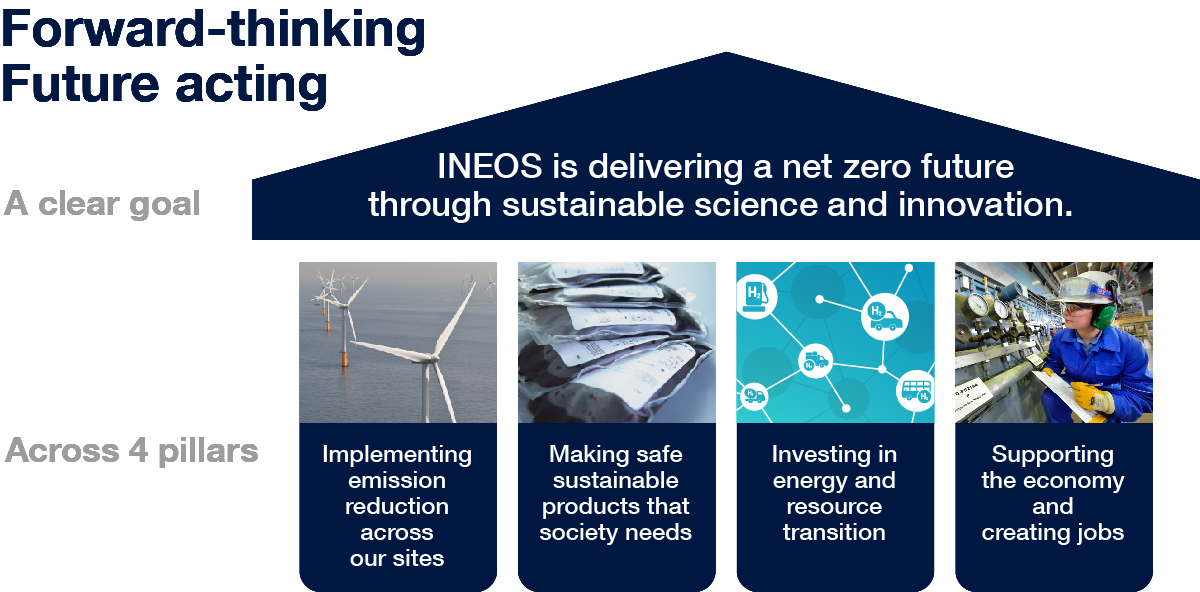 ---
INEOS at Grangemouth is committed to emissions reduction, boosting our role in the circular economy and ensuring that a net zero future is delivered safely and securely. Such a transition secures jobs here in Scotland and ensures future success for the UK economy.
Andrew Gardner, INEOS O&P UK Chairman and INEOS FPS CEO who continues to say,
This integrated approach saves resources, reduces GHG emissions and creates opportunities for our customers and our businesses. It maximises the valuable contribution that plastics make to society whilst minimising the draw on new resources and opportunities for waste to enter the environment. This dimension of our commitment to meeting the Paris Agreement will be expanded in future publications in the coming weeks – this includes video footage of some of our group-wide activities as well as specific stories of how our use of recycled materials is helping drive innovation for the Scottish economy.

Stuart Collings, INEOS O&P UK CEO adds,
The road to Net Zero 2045 is a journey, that we have already started but will demand continued investment. If Paris and COP21 was a 'moment of hope' in the battle against Climate Change, Glasgow and COP26 must be a 'moment of truth' when society, with business at its core, steps up and shows not just what it intends to do, but what it is doing. This is why we will have a clear Roadmap to Net Zero for the INEOS businesses at Grangemouth, and we will be publishing this by September 2021.