Published Date: 25th November 2021
GRANGEMOUTH STEPS UP WITH A TEAM EFFORT
In August 2019, we first reported on our adoption of "Operation Clean Sweep®" across our business operations, bringing a renewed and obsessive focus to zero pellet loss to the environment.

In the two years since that rigour and framework was introduced to underpin our efforts to eliminate pellet loss, progress has been continuous. What started as an initiative solely at INEOS' facilities at Grangemouth has now spread the length and breadth of our entire logistics supply chain, connecting our own operations with our transport partners and our customers who transform those pellets into the products essential for modern life and that we all take for granted.
Those processes and procedures employed throughout the supply chain to ensure every tiny, translucent pellet is in its proper place are now at the core of a new international standard: Downloadable here
Our expertise and experience at Grangemouth in the careful stewardship of plastic pellets provided invaluable insights, via Ian Little, INEOS representative on the government sponsored working group tasked to develop the standard. "The new British Standards Institute Publicly Available Specification was developed by government agencies, environmental NGOs, academia, standards organisations and industry coming together to set very rigorous standards for any organisation handling plastic pellets" said Ian. "We were driven by a common purpose; to define what has to be done to stop pellets reaching the environment. Preventing any pellet loss to the environment is important. We wanted to work to ensure that OCS does not become a tick-box exercise, so having the opportunity to participate in defining the high standard against which we must all be judged gives me comfort that, while we have done much great work at Grangemouth over recent years to both prevent pellet loss in the first place and to ensure that, in the event any pellets are spilled, they do not leave the site, we recognise that we can still learn and look forward to the rigorous challenge that this new British standard will provide."
The challenge is vast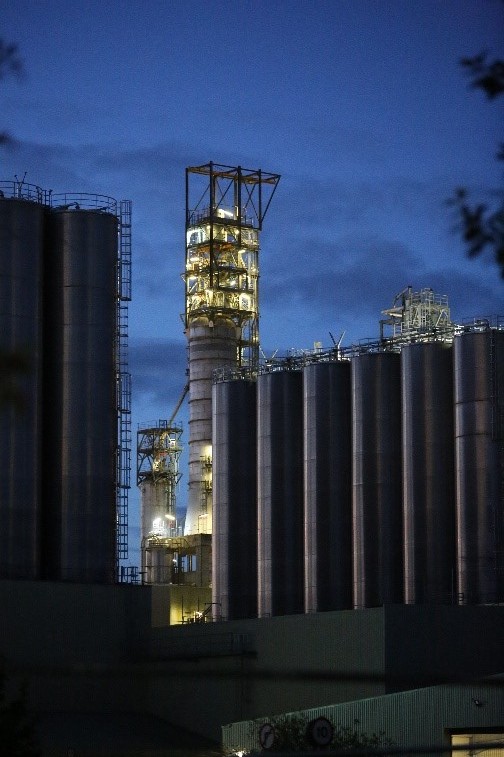 However INEOS is no stranger to taking on tough challenges and coming up with workable solutions. So successful has been the initiative that we wanted to see for ourselves what makes Operation Clean Sweep® work so well here at Grangemouth.
At full capacity the two INEOS O&P UK polymer plants at Grangemouth can produce 700 tonnes of polyethylene and polyproplyene per day. Each weighing much less than 1 gram, even one pellet lost is considered unacceptable.
The silos that safely store the polymer pellets prior to being bagged or loaded into bulk trucks and sent to customers.
Given the quantities of pellets transported each day, it may seem that failure on a daily basis is inevitable. However, our success is largely due to extensive training, the sharing of best practices, introducing new processes and controls and significant investment across site, including the redesign of the polymer loading chutes, installing specially designed sieves across drains, installing cleaning stations across affected areas, updated manufacturing processes and a real focus on team effort. The main emphasis is on preventing pellets from escaping in the first place, which is where equipment and process design, robust procedures and staff training are key. We have appointed OCS Champions to work on each shift, ensuring there is a constant focus on zero pellet loss.

We were shown behind the scenes by one of the Operation Clean Sweep Champions, Gemma Taylor. We joined her first at the crack of dawn on a day shift and then two weeks later went back to see what happens as she began her night shift. Manufacturing operations continue 24/7, 365 days a year and so too does Operation Clean Sweep which requires vigilance around-the-clock to keep pellets in their proper place.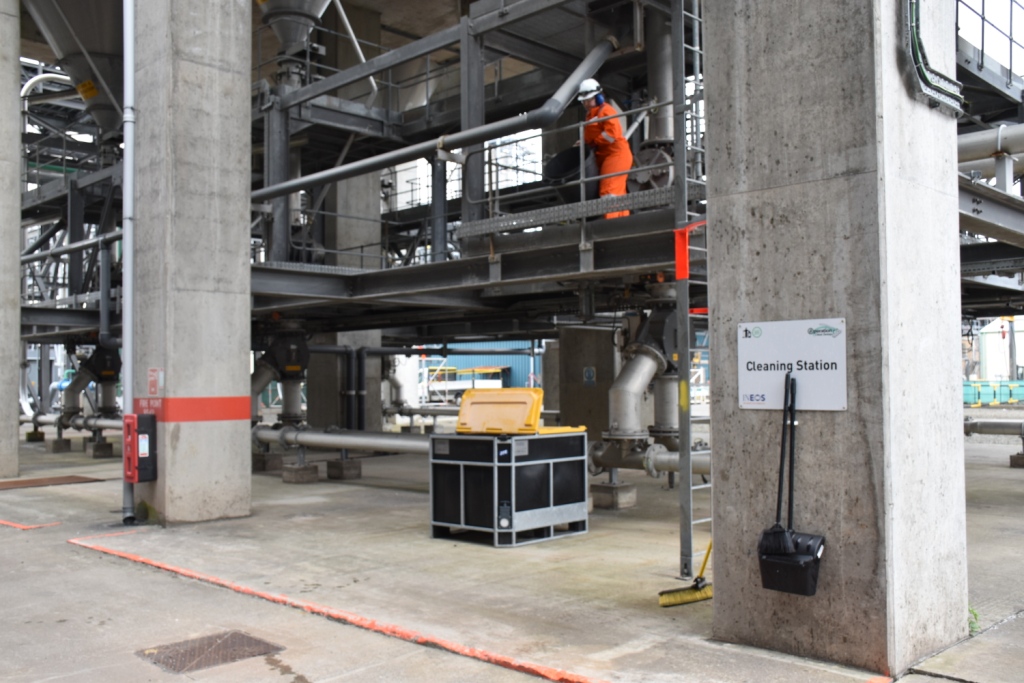 There is a multi-layered approach to preventing pellet loss, some high tech, some low tech. Pellet water separators, rumble strips, air blowers, road-sweepers, wet and dry vacuums, and brushes - lots and lots of brushes - including 5 metres up off the ground for drivers to clean sweep the roofs of their trucks! The team at INEOS O&P UK and their logistics partners KTN, take good housekeeping extremely seriously.
Awareness of the principles and practices of "Zero pellet loss" are embedded right across the supply chain. All hauliers are mandated that they incorporate the principles into their operations and sign up to Operation Clean Sweep. Trucks are now monitored and drivers are personally accountable to ensure there are no pellets on the outside of their vehicles before leaving the site.

INEOS is a leader of change for Operation Clean Sweep. Our job is to ensure that, no matter the end-use application, whether it is special grades of plastic bound for transformation into face masks and medical devices, water and construction pipes, food and drink packaging, every pellet reaches its intended destination and that we have taken every reasonable step to significantly reduce the risk of any pellets finding their way out of the supply chain.
Gemma Taylor

You know for a fact that you're not making the world outside a mess. Operation Clean Sweep is such a good opportunity for an apprentice, a young person like me, to influence other people to want to tidy up, to know why we put these processes in place. We're all here to keep the pellets in their proper place.

For me, Operation Clean Sweep was the right way to go. We want to be proud of where we work, and for me INEOS is a place to be proud to work because of what we are doing to protect the environment.

What we are doing on plant is being recognised for its positive impact – by the people that work here, by our managers and hopefully by the wider community.
Angela Hall, Manager at KTN (Logistics Partner)
As a team here our target is zero pellet loss, and we achieve that through various work processes. Many procedures are set in place and zero pellet loss has become our way of life here, it's our job. Zero pellet loss is the ultimate aim. It's all part of the training, if we have a spill we must clean up after us.

It's all about zero pellet loss, stopping any pellet making it to the environment, sweepers going back and forth, sieves on drains, pellet separators, everybody doing their job.

We're picking plastic up, tiny pellets, to eliminate any waste, that's what Operation Clean Sweep means. We're a team working together for a common goal. It's part of the job, that's part of looking after the environment. You can never be too proud or too busy to brush up.