Published Date: 2nd December 2021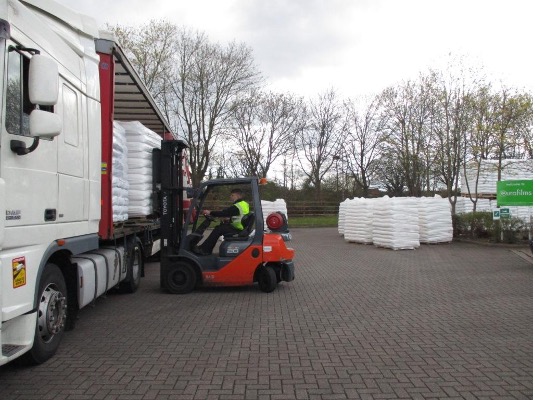 Graham MacLennan, Polymer Business Manager, said, In 2018, INEOS pledged to make polyolefin products for packaging applications in Europe containing 30% or more recycled content. At Grangemouth, our commercial team have been working closely with our R&D, sales teams and customers to deliver a new grade of polymer that diverts waste plastic from landfill to be reused in the manufacture of new polyethylene, whilst maintaining the exacting specifications demanded by consumers in the performance of plastic packaging. rLL9210 will be added to INEOS' growing Recycl-IN range of PCR based materials
The first bulk order of rLL9210 polyethylene has recently been delivered to Eurofilms in Telford, Shropshire (see left). Eurofilms are converting the polyethylene into various pallet wrap and stretch wrap products, essential for the safe and secure transportation of goods through the complex distribution network for the retail sector.
Will Humphreys, CEO at Eurofilms, said, We have a long standing relationship with INEOS at Grangemouth, a partnership that has developed over many years. We are delighted with this new grade of polymer and its performance through our processing and manufacturing plant. The optical properties are on a par with the standard grade we have received in the past from Grangemouth. Employing this new hybrid polymer grade means we are able to produce materials which contain at least 30% PCR. This is in line with the UK Government's targets which are to be implemented from April 2022 as part of the Plastic Packaging Tax Scheme.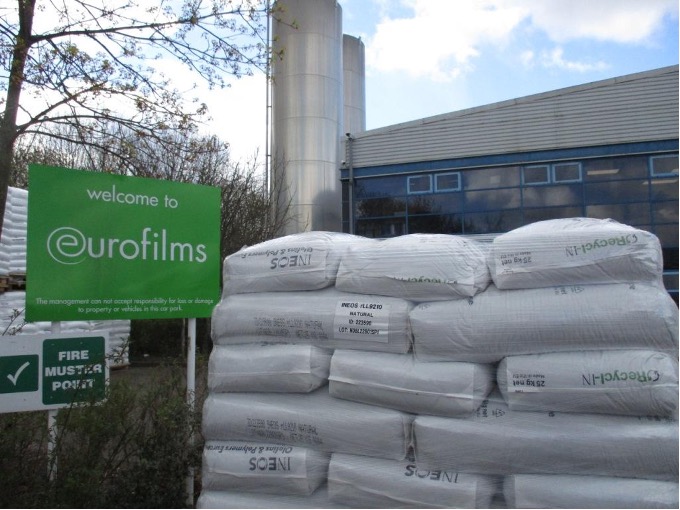 The Polymers sales team note that ready acceptance of this grade across the packaging sector augurs well for the future and for Eurofilms as an early adopter. Rudi Heinemann, INEOS Account Manager for the UK & Ireland said, We are aiming to work with all of our UK customers to identify opportunities where our PCR Hybrid Resins could be used. We are already sampling and testing a variety of our new hybrid materials with several other customers in the UK & mainland Europe. We may eventually see the rLL9210 replace some of our 'standard grade' sales as end users changeover to the PCR based materials, however we expect it to protect our virgin polymer sales, and potentially provide access to new market opportunities. I'm excited to support INEOS' drive to support work to deliver a more circular economy.