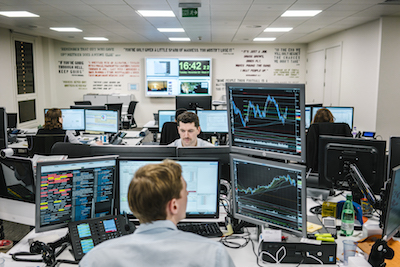 INEOS Trading & Shipping is responsible for the procuring and trading of petrochemical feedstocks which come in gaseous and liquid forms as well as adding value to the downstream petrochemical products trading of other businesses within the INEOS group.
At INEOS Trading & Shipping we also look after a large portion of our European sites' exposures to natural gas, power and emissions markets. Natural gas and power help to run a number of our sites across Europe – our portfolio extends across Germany, Belgium and Norway while we are active participants within the European Emissions Trading Scheme.
Trading – Energy
Natural gas is a hydrocarbon gas mixture largely made up of methane and some other gases. The gas is typically removed from deep underground rock formations with drilling rigs, processed to remove impurities such as water and carbon dioxide, and sold as consumer fuel for heating, cooking or generating wholesale electricity. It is also used to power vehicles and in the manufacture of plastics and chemicals.

Annual Quantity:

INEOS Trading & Shipping manages, markets and trades over 50 TWh per year of natural gas for a variety of INEOS businesses every year.

A type of energy fuelled by the transfer of electrons from positive and negative points within a conductor. Power or electricity is widely used for providing power to buildings, industry, electric devices and now even automobiles! Sources for power generation include natural gas, coal and increasingly renewables such as wind and solar.

Annual Quantity: INEOS Trading & Shipping trades about 1.5 TWh of power every year.

An EUA certificate or 'emission' is the equivalent of production of 1 tonne of CO2. As a cap-and-trade system, the European Emissions Trading Scheme (EU ETS) sets an emissions cap or limit on the total emissions allowed by all EU ETS operators, but within that limit the carbon market allows participants in the System to buy and sell allowances as they require. The carbon price signifies the amount participants in the EU ETS are willing to pay per EU allowance given demand and supply. INEOS sites operate within the EU ETS and can find themselves balanced, short or long in emissions depending on their business activity.