INEOS helps produce 11,088 secure plastic boxes for flood victims in the Ahr valley near Koln.
---
Concerted fundraiser by INEOS, Allit and other companies
Polymer donation helps the manufacture and delivery of essential durable plastic boxes to store personal belongings.

---
INEOS has donated high-quality impact resistant speciality polymer to Allit in Bad Kreuznach, Rhineland-Palatinate, where 11,088 plastic boxes will be produced to help protect the valuables of people affected by recent floods in the region.
Boxes measuring 50x33x28 centimetres will be produced in special shifts. They will be sent to people in the villages in the Ahr valley affected by the recent floods, to store clothes, crockery and other valuables outside their completely destroyed houses, in a clean and dry place.
"When the request for this help came to us, we immediately agreed to help. No questions asked. We made this possible as quickly as possible. Helping people in need was our motivation," said Rob Ingram, CEO INEOS Olefins & Polymers Europe North.
Jan de Belder, Site Manager of INEOS O&P North in Geel, Belgium: "With our team in Koln, we immediately set everything in motion to help quickly. The willingness of everyone involved to assist was enormous."
"We worked together. It was an immediate joint logistical effort. Whilst the initial idea came from Allit via one of our customers. Each of our companies immediately responded. INEOS in Koln contacted our site in Geel in Belgium, where the special polymer is produced, the rest flowed from here," says Bastian Scheer, Export & Trading Manager at INEOS Olefins & Polymers Europe.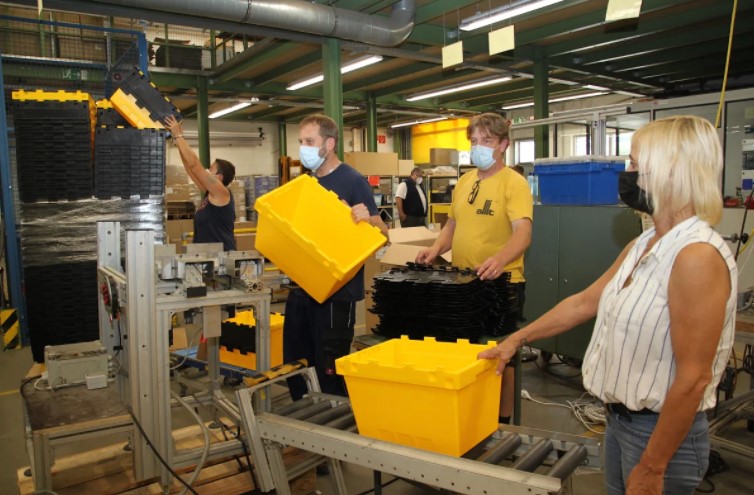 Jenny Will, Constantin Kost, Andreas Knobloch and Martina Dhein (from left) work in extra shifts to prepare the plastic boxes for shipping
Allit board member Karsten Kallinowsky said, "We are proud to be able to work with INEOS and other partners. This logistical chain, which was quickly set up, is a great achievement and INEOS has played a big part in it. Without the enormous commitment of everyone, we would not have been able to help so quickly," says Kallinowsky. His brother and fellow board member Jochen adds: "Around 40 employees from our company immediately agreed to manufacture the plastic boxes and work extra shifts to get them ready for shipping free of charge." Jenny Will, for example. She even helps out on holiday: "That goes without saying. Anyone in need needs help, so I'm there as a matter of course." Constantin Kost says: "Helping is a good feeling. You're also happy to get help yourself if you're ever in need."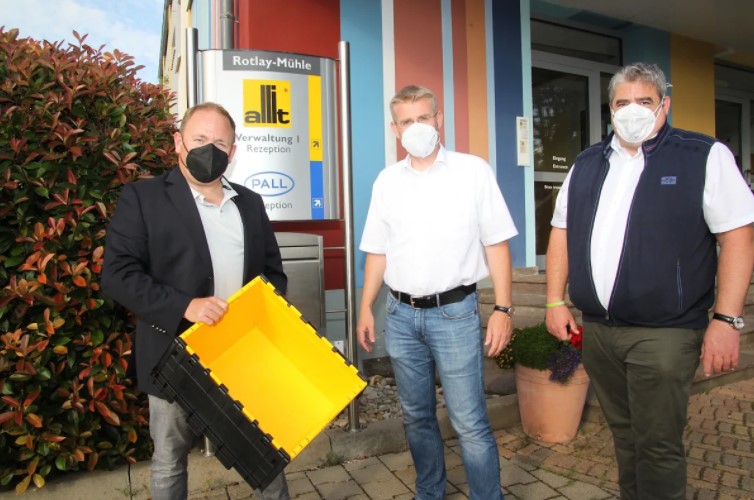 Bastian Scheer, Jochen and Karsten Kallinowsky (from left) with the finished plastic boxes
ENDS
Share this Article: