Published Date: 2nd November 2021
120 young employees from Balfour Beatty, Bilfinger, bp, Booth Welsh, Falkirk Council, Forth Ports, Fujifilm, INEOS FPS and INEOS O&P UK, Petroineos Refinery, Stantec UK and the University of Stirling have taken part in the challenge leading up to COP26 in Glasgow.

The Fuel Change teams of young apprentices aged between 18 and 24, supported by volunteer mentors from industries across the Forth Valley and throughout Scotland demonstrated a commitment to getting to grips with the Climate Change challenges facing INEOS and other major industrial organisations in the Grangemouth area.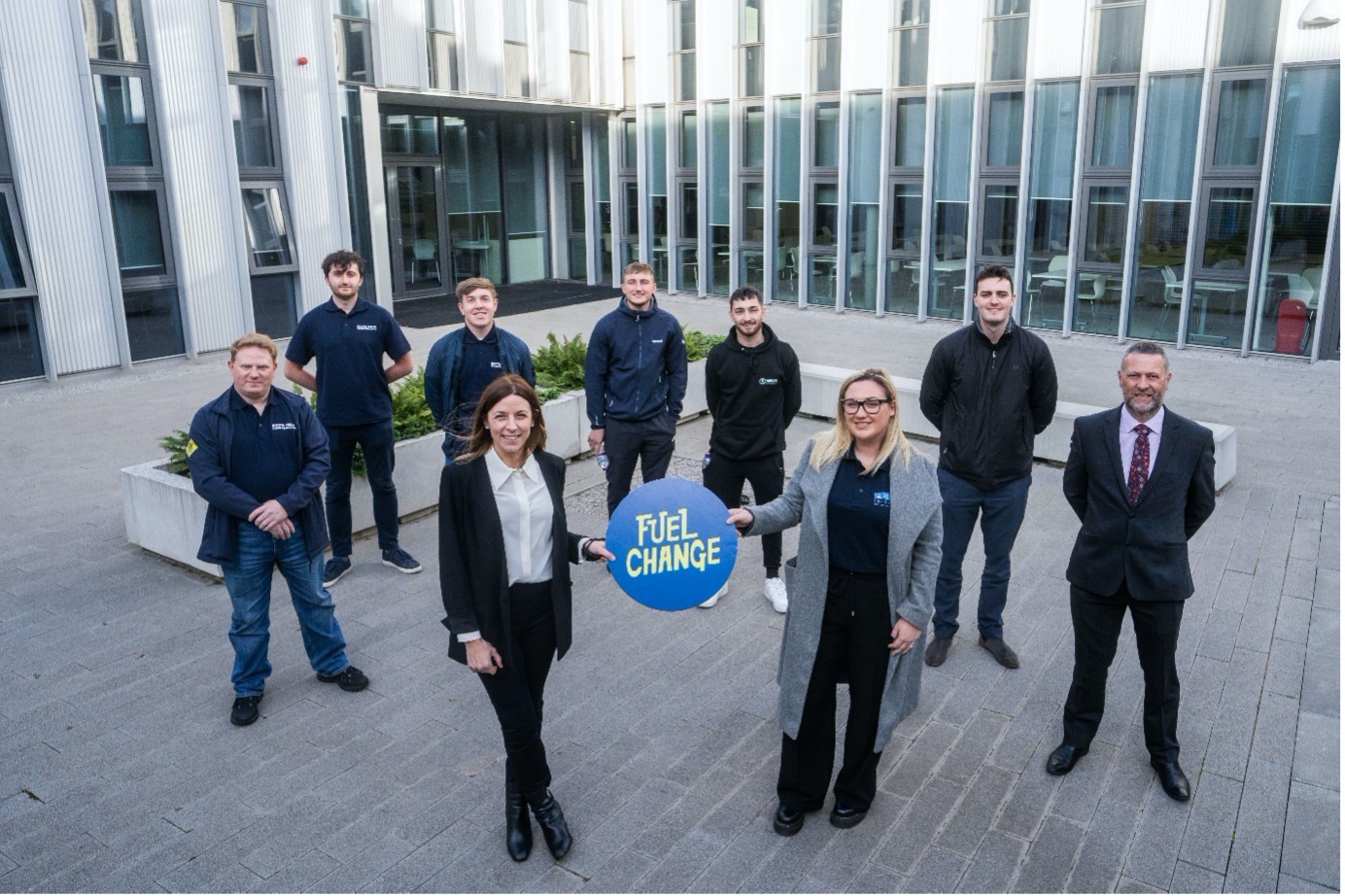 The questions assigned to each group had been hand-picked by INEOS in association with the Scottish Government. The project was supported from the outset by Michael Matheson, Cabinet Secretary for Net Zero and Energy. Mr Matheson praised the participants, saying that,
"The Fuel Change model has the potential to create solutions that will have a significant impact on both the energy sector and wider industry."

Fuel Change, Forth Valley College and INEOS are now reviewing the final ideas in detail to examine which could be further assessed, evaluated and developed as potentially feasible for implementation at scale.

Some of the ideas are already in progress at INEOS Grangemouth, but we'd like to share an overview of all the ideas to emerge.
Let's take a look at the challenges in more detail, and review some of the bright ideas to emerge:
Sustainable Manufacturing – A pool of talent creating a pool of ideas
The teams envisaged a future for Grangemouth in which Net Zero is "business as usual"; participants put forward their ideas to protect the environment while ensuring that the local area continues to be at the forefront of innovative industry.

In reviewing their ideas, the Fuel Change leadership team were impressed by the comprehensive thinking of the teams and their thought-provoking solutions.

Given the quality and breadth of the ideas put forward, at this stage we are moving these into a new round of detailed assessment, so we will simply share the headlines without attributing the individual ideas team-by-team at this time:
Electric Vehicle charging points powered by renewable electricity generated by roadside traffic turbines.
A system of tidal-energy lagoons incorporating Green Hydrogen production built-in to the Grangemouth Flood protection scheme.
An approach to generating Green Hydrogen from wastewater, enabling a sustainable, greener, resilient and more inclusive place with community at its heart.
Co-processing waste oil – increasing the usage of biofuel/waste to be processed without affecting product or process integrity.
Replace Steam tracing system with electric tracing from renewable energy.
Fuel switch for Grangemouth production facilities to reduce CO2 emissions, utilizing low carbon Hydrogen in place of natural gas.


Plastic Waste – Rising to the Challenge, Promoting Collaboration and Collective Action
Recognising that this is a complex challenge, the teams were motivated to leverage their curiosity and creativity to develop meaningful and practical solutions for the future. What was particularly encouraging was how teams recognised that it requires a combination of regulatory frameworks, connecting manufacturing and retail industries to promote circular economy actions which consumers believe in and are committed to support.

The teams all concluded that to achieve Net Zero by 2045, we need everyone committed and empowered to do the right thing… working together to progressively reduce and eventually eliminate plastic waste.
Collect and recycle disposable face masks, PPE, and other single-use plastics and repurpose them into other useful products; the team proposed an innovative incentive network to positively encourage the circular economy processes.
Changing mind-sets and behaviours of our Next Generation via a national package of education activities for school pupils
A Plastics Management Accreditation Scheme
An integrated approach to changing the public and industrial mind-set to help us recycle plastic waste so that we can generate other products and reuse a finite resource by advanced recycling of the plastic waste.
Heat Energy – Blue & Green Hydrogen – Energised Teams producing Powerful Inspiration
What impressed the challenge setters was the level of understanding and thoroughness of appreciation of the practical constraints and thermodynamic limitations associated with this challenge.
A greening of the crude oil stabilisation processes at Grangemouth's Kinneil Terminal which will eliminate the CO2 emissions from the necessary heating processes with Hydrogen replacing natural gas as the fuel.
Upgrading the furnace systems involved in polymer production through a gradual fuel switch process from methane to hydrogen, eliminating the CO2
Re-routing the existing flare system to a flare gas recovery unit allowing off-gases to be used as fuel gas for the power station rather than being emitted to the atmosphere.
Carbon Utilisation – Insights, Intelligence, Innovation

During the celebration event, this particular challenge was one in which all Fuel Change participants were impressed by the due diligence, intelligence gathering and multi-faceted solutions that the teams developed.

The common ground area of using algae to turn waste CO2 into usable bio-products demonstrated the advanced level thinking that has typified every stage of all four challenges in the #Grangemouth Net Zero Challenge.
Using CO2 to grow algae in ponds at industrial scale to capture and utilise carbon at Grangemouth. It has the potential to be a catalyst to bring other industries to the area and reduce their carbon footprint by using the algae grown as a feedstock for other industries i.e. Energy, Clothes and Animal feed.
Using CO2 capture and utilisation to produce algae bioplastics - commercially viable, sustainable, compostable, recyclable, biodegradable and strong. This promotes CO2 by-products and plastics as positive rather than negative aspects of life
Capture and treat waste streams of CO2 to grow photo-plankton in vertical farms near the Grangemouth site creating additional local jobs
Capturing CO2 from Industrial flue gas at source without the need for upstream capture. Use the CO2 to grow algae to create high value products which improves viability of utilization, decreases oil consumption and improves environmental impact
These impressive suggestions for innovation exemplify why cross-sector collaboration among industries throughout the Forth Valley and wider Scotland coming together are a must on our collective journey as a nation towards a common shared goal of Net Zero by 2045.

INEOS have been proud and privileged to work with Scottish Government, Fuel Change, Forth Valley College, Falkirk Council, the University of Stirling and all the apprentices and #NetZeroGeneration stars from all companies and organisations to make this #NetZero Grangemouth Challenge so rewarding and promising for all.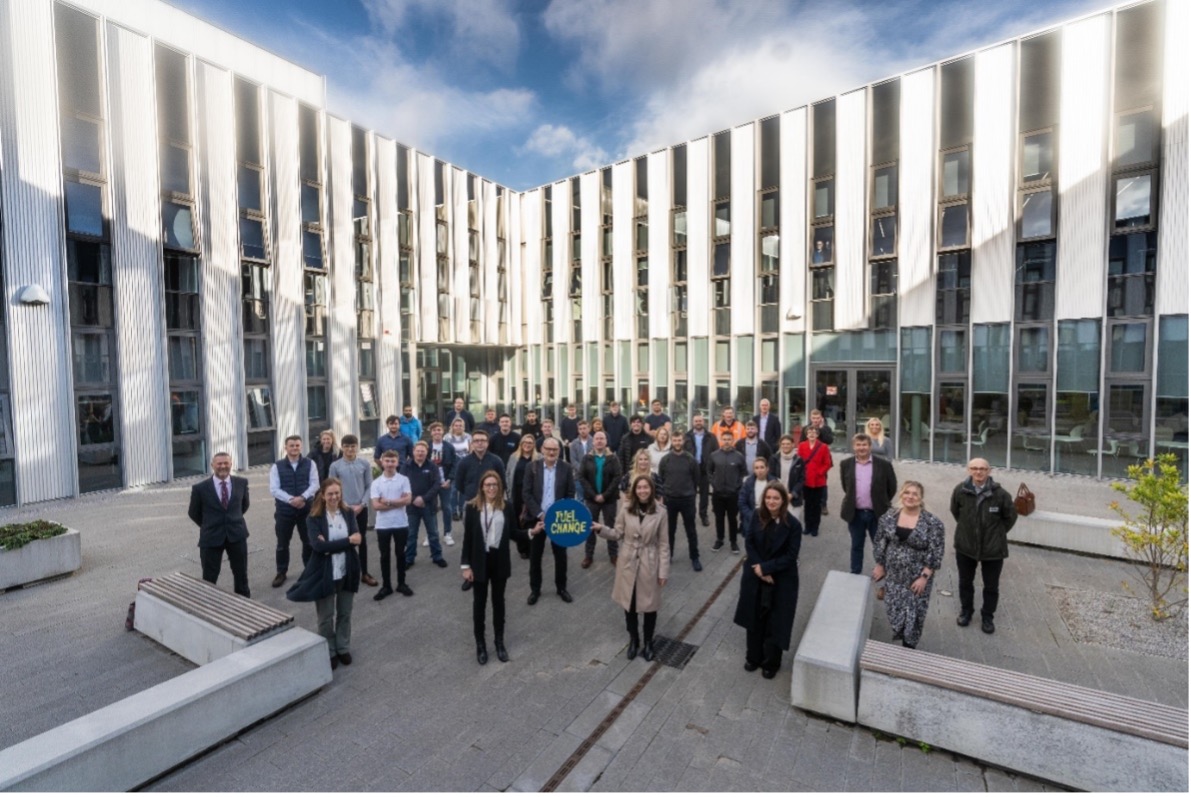 INEOS' Gareth Raymond echoed the views of the participants about the overall process.

"In the beginning there was a lot of hesitation, plenty of uncertainty as to the best route forward, and a nervousness regarding the magnitude and complexity of the challenges being addressed.

In the middle of the journey, the apprentices had progressed to a mixture of hope and doubt, sometimes in equal measure, other times overwhelmed by the hope of success balanced with a genuine question as to whether there really is "light at the end of the Net Zero tunnel".

By the end of the process, we have arrived at a new start point. A launchpad for further discovery and evaluation. We are delighted that there are many good ideas that people believe in, and reassured that some of those ideas are already being worked on. For sure there is a collective will to examine all the ideas for possible further development and implementation."

As Gareth put it, "The Fuel Change teams went through a steep learning curve in a matter of months that would under normal circumstances take years to master. What was phenomenal was seeing how teams drew inspiration and energy from their apprentice peers, their work colleagues, college tutors, and experienced mentors. This inspiring teamwork allowed the process of learning and ideation to "fast track" the team's knowledge-building, creative thinking and critical evaluation skills."
Team participants mentioned how the "Disney" creative Imagineering process helped them screen their initial pool of ideas; sorting them as to which might work, which needed more refinement and others that needed rejection. Be it as "Dreamers", "Realists" or "Spoilers" – the different phases of the Disney process – the aim was the same, how to develop and refine the best ideas that could be considered for further development and ultimately, we hope implementation.