Driving success. Together. That's what INEOS Styrolution believes and that's what it is delivering, as INCH discovered
IN today's increasingly dynamic and changing world, there is no substitute for innovation.
It is the key to driving economic growth, the insurance against irrelevance and unlocks the door to real progress.
As the pressure on resources grows, applications become more demanding and sustainability becomes more than just a buzzword, the need for innovation has never been greater.
INEOS Styrolution understands that.
As such, it focuses on the customer – and what the customer wants.
But it does not work on its innovative R&D activities alone.
It has set up a global innovation network with organisations such as the Washington State University, Fraunhofer LBF Darmstadt, Neue Materialien Bayreuth GmbH and the University of Bayreuth to deliver best-inclass solutions to customers to give them a competitive edge in their respective markets.
For almost four years, it has been working closely with Germany's Neue Materialien Bayreuth GmbH, a strong R&D site in material science, and the University of Bayreuth.
The university carries out the basic research, NMB explores the innovative production processes and INEOS Styrolution, which steers the entire research process, is ultimately responsible for the production and launch of any innovative solutions.
"It's a fantastic and unique partnership," said Dr Norbert Niessner, Global Head of Research and Development at INEOS Styrolution. "We not only have a lot of ideas but, together with our innovation partners, we also have the resources to execute them."
The beneficiary of the set-up is the customer.
"Typically, if you work in R&D, the perception is that you are working in an ivory tower, but that is not the case here," he said. "We include the Bayreuth researchers as if they were our own people. They are exposed to real customers' challenges and that's what makes this collaboration so outstanding. It's the will and the brains working together to find a solution."
The end result, as far as INEOS Styrolution believes, though, is the same: keeping the customer one step ahead of the pack is the most important thing.
"We are committed to giving our customers a competitive edge in their markets," said CEO Kevin McQuade. "If we want to find the best solution for them, we need to work hand in glove with them. The innovation network is a win-win for everybody. Customers get access to the best solutions and access to resources. The partners are also happy because they are carrying out research for a real-life purpose."
The automotive industry is one where INEOS Styrolution focuses heavily.
Earlier this year it, together with NMB, unveiled a brand new solution, which offers a lot of opportunities for the automotive industry. StyLight, as it is known, is a composite based on the company's styrenic materials, and it is currently being evaluated by several car manufacturers.
"We are expecting the first orders soon," said Norbert.
The automotive industry, though, is not the only one to benefit from the wisdom and brainpower of INEOS' academic partners and the expertise and drive of the INEOS Styrolution team.
Together they recently started working on a project that aims at developing innovative solutions for the recycling of polystyrene.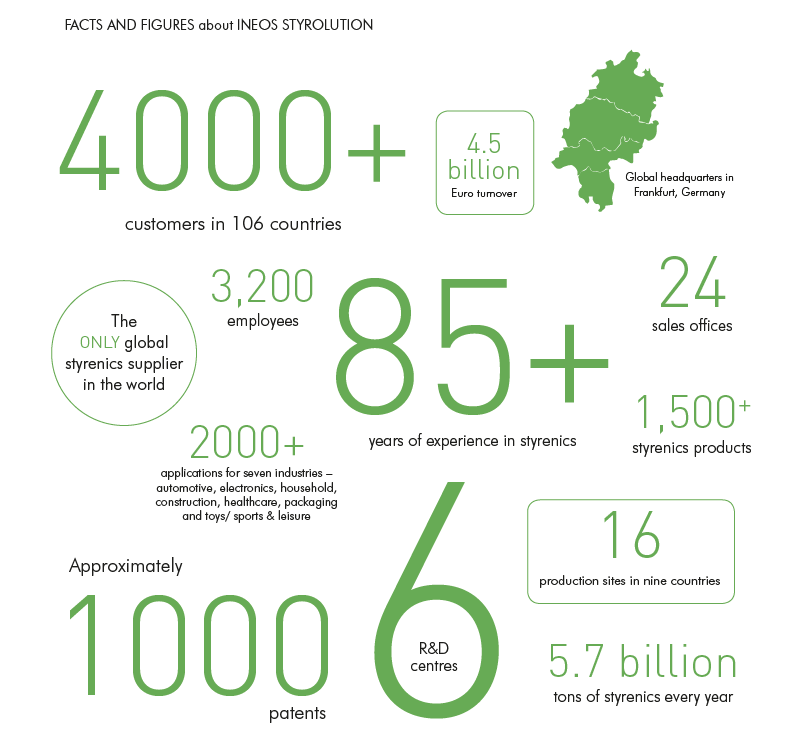 "Sustainable plastics is a mega topic these days," said Norbert. "So we want to make this happen. It may take a few years, but we are quite confident we will be able to do it."
What sets INEOS Styrolution apart is the importance it places on developing solutions, not just for its customers to stay one step ahead of the competition, but for the benefit of society.
"I think only those companies which provide true value to the customers, and here I include sustainability aspects such as saving greenhouse gases and resources, will retain their market position," said Norbert.
It is not only INEOS Styrolution that is impressed with the partnerships it has forged over the years.
"The collaboration provides application-focused research fields, which are attractive to our students and researchers," said Prof Dr Hans-Werner Schmidt, Department of Macromolecular Chemistry, University of Bayreuth.
By working together on innovative ideas for INEOS Styrolution's customers in the automotive, electronics, household, construction, healthcare and packaging industries, they believe they can create the styrenics of tomorrow.
"That customer-orientated innovation is at the core of our growth strategy," said Kevin.
The company regularly hosts innovation days when customers can give them a shopping list of what they are looking for over the next three to five years. In short, INEOS Styrolution works hard to understand what customers want to give them a competitive advantage.
Everything it does is geared towards fulfilling its socalled Triple Shift strategy, three areas which it has identified as key to help profitably grow the business.
Firstly, teams, each with an in-depth knowledge of their customers' specific industry, work closely with their customers to deliver best in class solution, be they in the automotive or any other focus industry.
Secondly, it focuses on producing more, higher value, styrenic specialty products.
And finally, it continually expands its business in areas deemed ripe for growth, such as Asia.
And it is on track to do that.
Earlier this year it completed its first acquisition.
Buying the global K-Resin® styrene-butadiene copolymers (SBC) business, with a manufacturing site in Korea, helped to expand INEOS Styrolution's position in the Asian growth market and cement its position as the only styrenics manufacturer with a true global footprint.
"We already had SBC production sites in the Americas and Europe, but we were missing a SBC manufacturing plant in Asia-Pacific," said Kevin. "K-Resin is now filling that formerly white spot for our SBC specialty business on our map."
The company now employs 3,200 people and has 16 production plants and six R&D sites in nine countries.
Looking to the future, Kevin remains optimistic and excited.
"In the early days of the Joint Venture between BASF and INEOS, we focused on synergies," he said. "Now that we have the right structure in place, we are looking at accelerated growth. We have a truly global presence that gives us a local insight into what's going on in the world 24 hours a day, seven days a week. These are exciting times."