A growing body of scientific evidence points to the negative human health impacts of air pollution, both outdoors and indoors. As engineers and manufacturers, we are aware of the importance of mitigating emissions from our sites; however recent studies have shown the necessity and efficiency of ensuring healthy air quality for employees in our office environments too.
There are two forms of pollutant. Gaseous such as Volatile Organic Compounds, carbon monoxide, sulphur oxides, ozone, methane, carbon monoxide/dioxide and nitrogen oxides (including NO2). The second is from particulates- fine particles suspended in the air that are for example emitted from cars.
With research ongoing, legal authorities and international bodies such as the EU 2008 EU Air Quality Directive and the World Health Organisation (WHO) have set guidelines and recommendations for healthy limits of these pollutants in the air we breathe. These are still being refined as the body of research into harmful impacts of air pollution grows.
POLLUTED AIR IS BAD FOR HUMAN HEALTH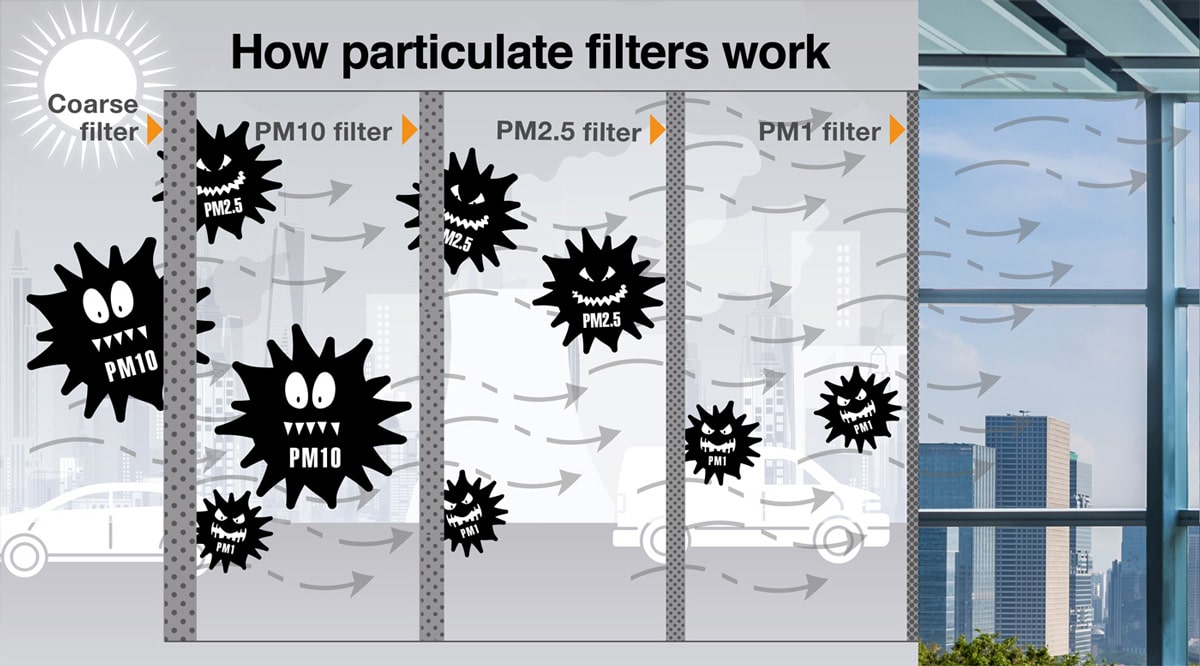 MANAGING INDOOR AIR
In 2018, when INEOS Chairman Sir Jim Ratcliffe first raised the issue of monitoring office air in London as a trial, INEOS Group Operations Director Simon Laker approached the solution from an engineering background. They were aware that working in a congested and polluted capital city such as London was bound to mean higher levels of pollutants would make their way into Hans Crescent air system and potentially impact the hundreds of employees that work there. Jim wanted a state of the art solution to the air quality issue, this meant using the best and leading edge technology available.
Simon engaged the National Physics Laboratory to conduct the air quality analysis and Dr. Melanie Williams as project consultant. To ensure the data gathered was thorough and accurate, monitors were set up on the pedestrian area outside the Hans Crescent office, on the roof 24m above ground where the office air intake is drawn, and inside the office on the third floor. Data was also collected from the various monitors around the city of London required by EU regulations.
A number of pollutants were monitored: nitrous oxides, sulphur dioxide, ozone, carbon dioxide, volatile organic compounds and particulates in the two regulated sizes 2.5 micrometers (PM2.5) and 10 micrometers (PM10). In addition, analysis was deduced on even smaller particles at 1 micrometer (PM1). While the smallest particulates aren't formally regulated by the EU, this was done, as growing research shows that the smaller the particulates, the greater their potential damage to human health [5].
It is known that pollutant levels across London are higher on many days than the EU recommended limits [6], and the INEOS monitoring confirmed this- with peak readings on some days reaching several multiples of the recommended maximum pollutant volume. The study also showed, as suspected, that levels of some pollutants were unfavourably high in the Hans Crescent internal office air system, regularly fluctuating in line with outside levels.
After several months of careful monitoring and analysis, it was determined that the prominent pollutants to be addressed inside the office were nitrogen dioxide (NO2), and particulates, usually generated by vehicles. Simon Laker points out that although the EU limits set a helpful baseline, the growing body of research is continually reviewing these limits downwards as more data becomes available. "We should see these as helpful markers but not definitive levels of 'safe' operation," he says.
While the long term emission limit of NO2 is recommended by the EU to be no more than 40 micrograms (μg)per m3, with the short term limits being no more than 200μg/m3 in a single hour, in Knightsbridge outside the Hans Crescent office both these limits were regularly breached. The inside of Hans Crescent did not see these breaches but levels were still thought to be too high. Interestingly, levels improved during the night and at weekends when the air conditioning is turned off to save power: further proof of the poor air quality being pulled inside the building.
The table below summarises the key findings of the analysis: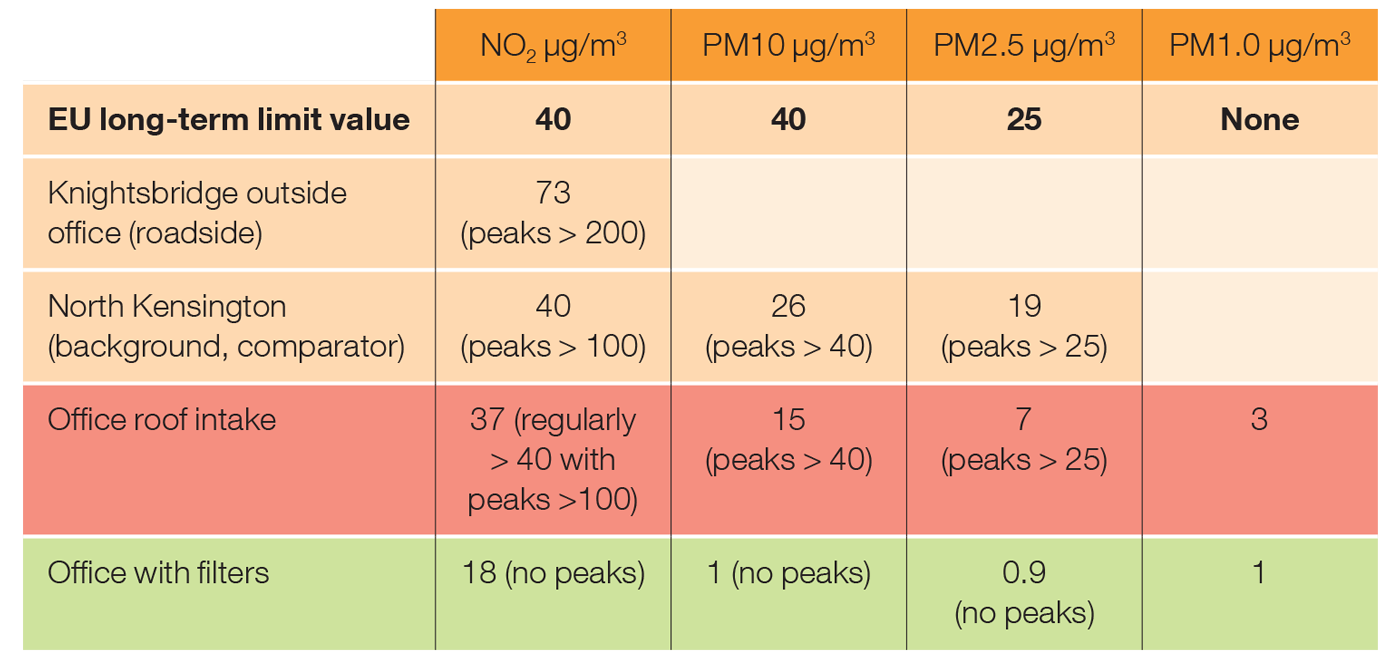 Engineering and technology specialist AECOM, known for their world class expertise in environmental technology and design solutions, were engaged to help develop the solution for the Hans Crescent air quality issue. Working with Simon and Melanie, AECOM determined that filters of two different technologies were required- an EPM1 particle filter which removes PM10 (with 98% efficiency), PM2.5 (92% efficiency) and PM1 (80% efficiency) particles from internal circulation, and an activated carbon filter. These were added to the existing air conditioning system.
Post installation analysis showed a significant improvement in both NO2 and Particulate levels (see table above). In addition, the carbon filters reduced other lower level pollutants such as sulphur oxides and ozone.
The internal monitoring work also showed that levels of CO2 (emitted by people breathing) were higher than expected in an office environment, with regular internal levels sitting at 1000-1200 parts per million (ppm) and peaks of 1400ppm. With ideal office levels sitting at 450-1000ppm, and 1000ppm commonly seen as the watershed between quality air and complaints of drowsiness, the air turnover rate was optimized to bring levels back below 1000ppm. The positive effects of this adjustment on employee concentration and decision-making are likely to be significant, according to a recent study by the Harvard T.H. Chan School of Public Health's Center for Health and the Global Environment [7].
With success of the air quality improvement project in Hans Crescent evident, the same changes have now been rolled out to the London sister office at Anchor House and the Swiss office in Rolle with similar positive results. A request has been made by INEOS Capital for all INEOS businesses to analyse and improve the air quality across their offices. "This work is at the cutting edge of office air quality improvement", says Dr. Melanie Williams, and should make a significant impact on staff health and wellbeing."
Simon considers the success of this project as a 'bridge to clean air'. ''Whilst we all work to improve emissions and air quality around the world, the system we have developed and installed is ensuring that our people work in a safe and healthy environment''.
As Jim points out, monitoring is not expensive, and where pollutant levels are high, the issues can be easily addressed with modest cost. "The welfare of our staff is hugely important to INEOS and we want to tackle the issue of air pollution, which is particularly serious in big cities", he says. "It's great news that our London staff can now breathe the cleanest air in the area and we are committed to making sure staff in other locations can enjoy the same benefit".
LINK REFERENCES