Recycled carbon fibre is being used by those who are building the boat that INEOS Team UK believes could make history.
So far 1000kg of 'waste' has been used by the British challengers for The America's Cup in the building process for the AC75 boat which will compete in Auckland in 2021. "The reuse of carbon fibre products is a real game changer," said Alan Boot, Naval Architect for INEOS Team UK. "We are diverting waste away from landfill and closing the loop in our production methods wherever possible."
A few years ago, carbon fibre, which had been used before, could not be recycled. But ELG Carbon Fibre has overcome the technical barriers and developed a method to recycle used composites so they don't have to be scrapped. "Their products have fitted seamlessly into our manufacturing processes which demonstrates how successfully these materials can be in a range of commercial markets," said Alan. He added: "This is a really exciting time in terms of boat production and will hopefully lead the way for other manufacturers to follow suit."
ELG has been working with INEOS Team UK since the campaign – to win sailing's most coveted trophy – began last year. "We both view this partnership as a vital step in addressing the issue of global carbon consumption and raising awareness of the urgent need to move towards closed loop recycling within the marine industry," said Alan.
ELG, a market leader in recycled carbon fibre materials, has been recycling the recovered fibres for INEOS Team UK at its specialist plant in the West Midlands. There, the fibres are converted into milled and chopped products to make thermoset and thermoplastic compounds and non-woven mats.
Although precise details of the INEOS boat's design remain a closely-guarded secret, ELG says its recycled non-woven materials have been used to produce two cradles to support the AC75 during transit as well as the hull and deck moulds.
"This is the perfect partnership," said Frazer Barnes, ELG Carbon Fibre's Managing Director. "Our products are helping to support the vital message of sustainability in elite sport and that is something we are very proud to be associated with."
Meanwhile, INEOS Team UK's AC75 Boat 1 will be launched later this year.
---
ELG Carbon Fibre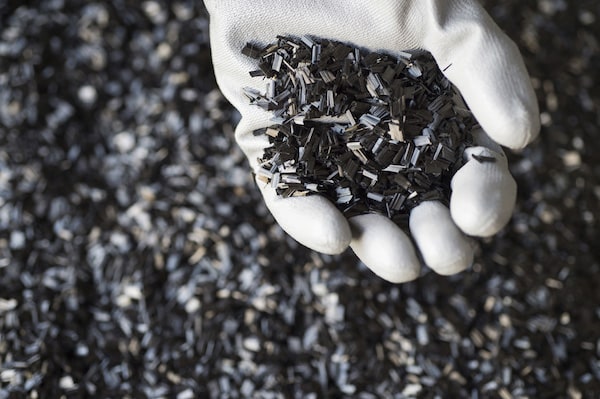 For more details about ELG visit the website: www.elgcf.com
T5
In August 2018, INEOS TEAM UK the British Challenger for the 36th America's Cup launched its test boat, known as T5. It was the first of the teams to launch a small scale foiling mono-hull.
AC75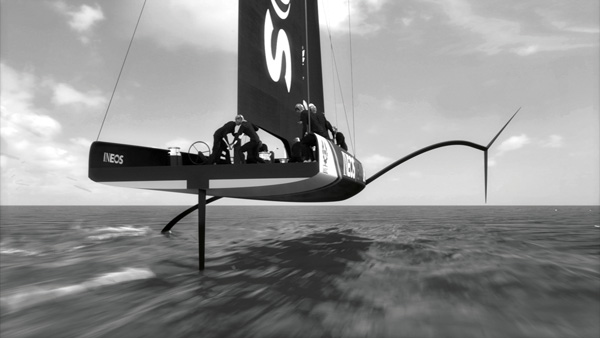 The AC75 is a 75-ft monohull sailboat class, governing the construction and operation of the yachts to be used in the 2021 America's Cup.
Crew: 11 + guest
Mast length: 26.50 m (87 ft)
LOA: 22.86 m (75 ft)
Beam: 5.00 m (16 ft)
LOH: 20.70 m (68 ft)