Back to where it all started in 1851
---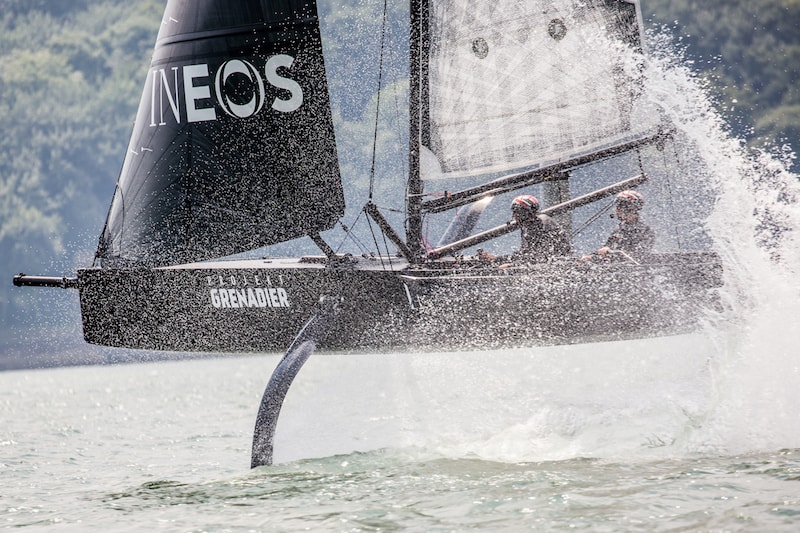 INEOS TEAM UK Team Principal and Skipper Ben Ainslie and Giles Scott sail T5 during a testing session on the Solent
On the day that the America's Cup race course and event dates were announced in Cowes, Isle of Wight, where the Cup began back in 1851, INEOS TEAM UK the British Challenger for the 36th America's Cup also released the first official images of their test boat, known as T5, a small scale foiling mono-hull.
No team's full-size race boat can be launched until before the 31st March 2019, under the America's Cup rules. The boat began sailing in late June and has sailed regularly from the team's Portsmouth base through the summer.
"Sailing T5 is an important part of the learning process with this new concept," added Ben Ainslie.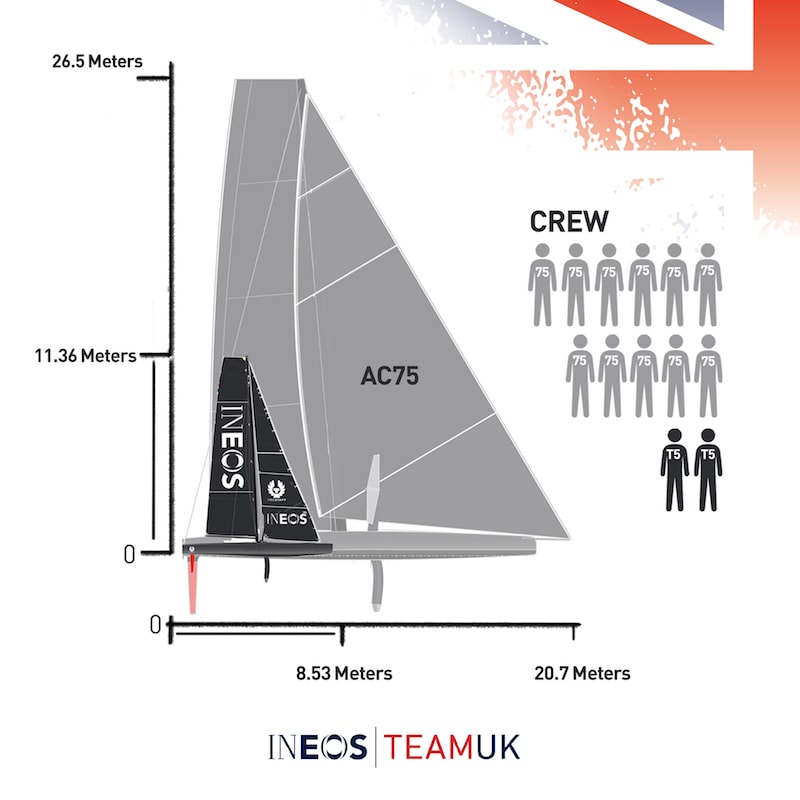 T5 test boat is scaled at 40% of the AC75 race boat
Grant Simmer, INEOS TEAM UK CEO was keen to stress this is only the start of a long process of design and development, in the build up to the America's Cup in 2021. "We know the other teams won't be that far behind us and we must keep pushing harder than ever. This is a good start and a real credit to the whole team."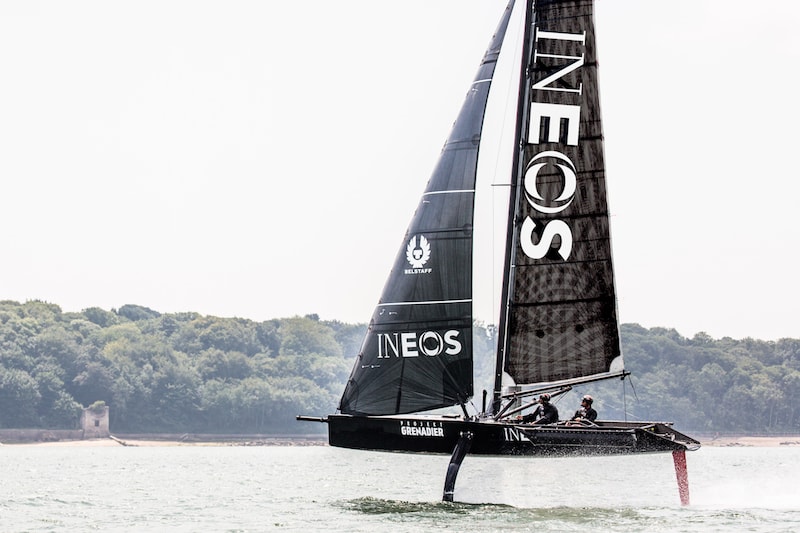 INEOS TEAM UK Team Principal and Skipper Ben Ainslie and Giles Scott sail T5 during a testing session on the Solent
Facts and Figures
T5 is a 28-foot foiling monohull, it began life as a Quant 28 but has been significantly modified to match the fundamental parameters of the AC75, the class of boat that will contest the 36th America's Cup.
The modifications involved installing two foil arms, T-foils and control systems, changing the rudder, deck layout, hardware and rig.
The boat is scaled at 40% of the AC75.
T5 will allow the team to learn to sail a completely new concept of sailboat and verify computer modelling and simulations for the design of their first race boat.

ENDS
Notes to Editors
Media Contacts:
Jo Grindley (INEOS TEAM UK) 07788 106762
Sarah Alexander (INEOS TEAM UK) 07471 478 779
Richard Longden (INEOS) 0041 21 627 7063 or 0041 7996 26123
Mark Killick (Media Zoo) 020 7384 6980 or 07836 634449
Andrew McLachlan (Media Zoo) 020 7384 6980 or 07931 377162
Joseph Wade (Media Zoo) 020 7384 6980 or 07758 074576
Chris Hall (Media Zoo) 020 7384 6980 or 07739 571634
INEOS TEAM UK
INEOS, one of the world's largest manufacturing companies, has formed INEOS TEAM UK to challenge for the 36th America's Cup to be held in New Zealand in 2021. INEOS has partnered with Sir Ben Ainslie, the most successful Olympic sailor in history, to skipper INEOS TEAM UK. The team will represent the Royal Yacht Squadron's affiliated club, Royal Yacht Squadron Racing, to take on the greatest challenge in sport. INEOS TEAM UK will use its world class technologies and manufacturing know-how to develop an internationally competitive race boat, giving the best possible chance to bring the oldest international sporting trophy and sailing's premier contest back to Britain for the first time.
Share this Article: