INEOS GO Run For Fun Campaign Collects Two Cannes Film Awards
---
Jim Ratcliffe, chairman of INEOS and the founder of children's running charity, GO Run For Fun, has just collected two Cannes film awards for the "Dart" educational cartoon series.
Jim was joined by the "Dart TV" production team at the Cannes Corporate TV And Media Awards festival.
The awards are for best CSR programme and best Webisode programme. The whole "Dart" educational series, which helps children get fit and healthy, is available to all schools free of charge- and can be accessed via the GO Run For Fun website.
Jim Ratcliffe says, "These cartoons are great fun to watch, and help kids get fit and start running. The two awards confirm the cartoons are of the highest quality and I would urge schools to use them for free to help pupils lead healthier lives."
GO Run For Fun commissioned the cartoon series as a way of making it fun for kids to find out more about how to get fit and healthy. The series weaves nutritional and fitness information into a fun and easy to watch cartoon story. The "Dart" cartoon series was produced by London based media company, Media Zoo.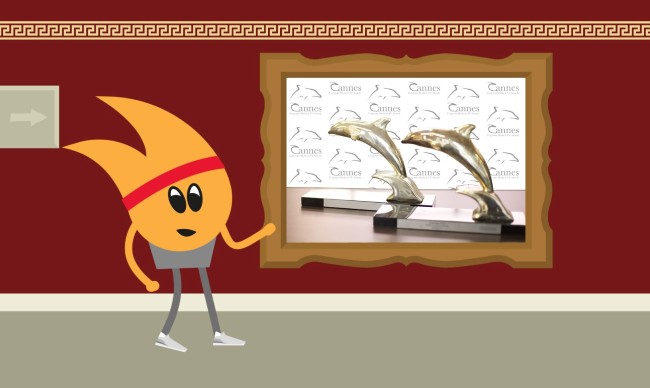 Go Run For Fun was set up two years ago and has already got almost 100,000 children running in the UK and across the world. It is sponsored by INEOS, and any school can ask to take part in a GRFF event free of charge.
Jim Ratcliffe, a keen runner himself, adds, "GO Run For Fun was only started two years ago and it has already exceeded all my expectations. It has staged children's running events in the UK and across the world and almost 100,000 children have taken part. I hope these new cartoons will help us reach out to even more children and get them to embrace a healthier and more active life".
All of the Dart films can be found on the GO Run For Fun website- to visit, click here.
Media contacts
Richard Longden (INEOS) 0041 21 627 7063 or 0041 7996 26123
Mark Killick (Media Zoo) 020 7384 6980 or 07836 634449
Andrew McLachlan (Media Zoo) 020 7384 6980 or 07931 377162
Hannah Brandstaetter (Media Zoo) 020 7384 6980 or 0789 6776554
Share this Article: