WE ARE COMMITTED TO DELIVERING A CIRCULAR PLASTICS ECONOMY IN WHICH PRODUCTS ARE RE-USED AND RECYCLED TO THE MAXIMUM LEVEL, AND NO PLASTIC WASTE ENTERS THE ENVIRONMENT.
In 2018 we pledged to achieve the following targets by 2025:
Make polyolefin products for packaging applications in Europe containing 50% or more recycled content.
Use, on average, 30% recycled content in products destined for polystyrene packaging in Europe.
Incorporate at least 325kt/a of recycled material into products.
Ensure 100% of polymer products can be recycled.
No one single recycling method is sufficient to meet these targets. Instead, we are developing several different technologies in parallel, each suited to a different fraction of the plastic waste which is collected. Wherever we can, we are taking action now. We have already launched over 25 new products containing recycled plastic. But alongside that, we are working with partners on new technologies for the medium term.
Our starting point for increasing recycle rates is product design: using our skills in material science to design products that make recycling easier to do. After that, we are working on the technologies needed to recycle each part of the plastic waste that can be collected. Some is recovered as a relatively pure stream, in which case we can recycle it mechanically - remelted and re-used in a new application. However, much of the waste plastic is mixed together or contaminated with food or other materials, and for these we need advanced recycling methods.
OUR STRATEGY FOR THE CIRCULAR ECONOMY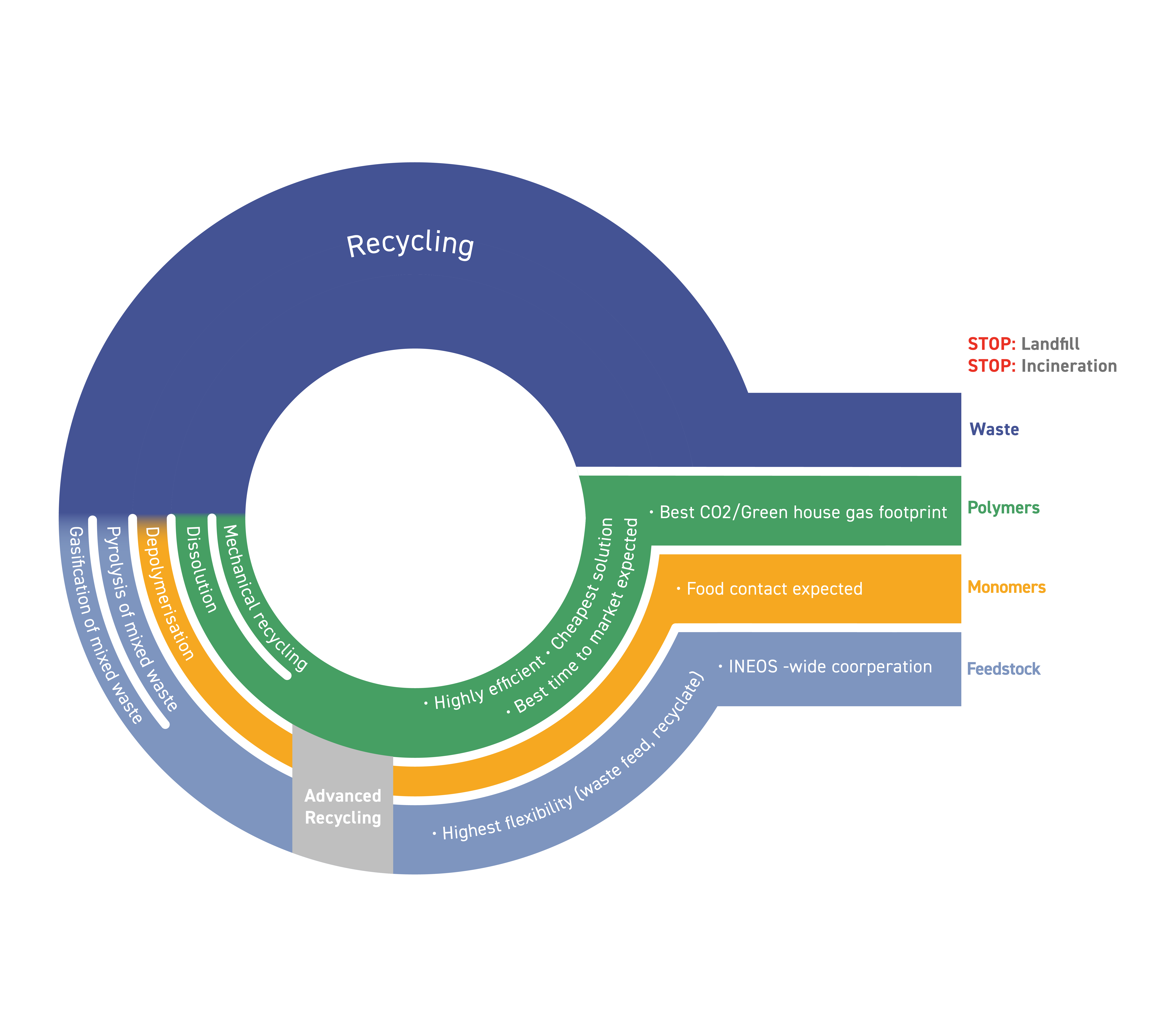 MECHANICAL RECYCLING
In mechanical recycling, plastic waste is physically processed back into pellets, without changing the basic structure of the material. This method is the quickest route to increasing recycling rates and has the lowest carbon footprint.
Across our businesses, we have already launched more than 25 new product grades that contain over 50% recycled content. Many of these contain newly developed high performance grade products to boost properties to match the performance of virgin material.
ADVANCED RECYCLING
Dissolution
Dissolution technology purifies waste polymers by reducing or eliminating legacy additives, colours, and impurities. INEOS Styrolution is working with specialty recycling company Polystyvert to produce high quality polystyrene (PS) resin from post-consumer PS waste. The joint development agreement will enable the companies to work together in closing the loop of recycling PS in a low-energy, cost-competitive production method. The process can be used to treat all types of feedstock, from industrial waste to post-consumer streams, and can remove a range of contaminants including pigments and brominated flame-retardants. Recycled PS pellets can then be used in a variety of products including in food-grade packaging applications.
Depolymerisation
In depolymerisation, polymers are recovered and separated from consumer waste streams then unzipped back to the starting monomers from which they were made. These can then be purified and re-polymerised to make high purity virgin resin. In a world first, our Styrolution business has proven the concept for polystyrene. It has demonstrated full circularity by depolymerising waste polystyrene back to styrene, then repolymerising it to make products identical to new fossil carbon based materials. We are now working with several partners to commercialise the process using state of the art technologies. We have plans to build a demonstration plant at its Antwerp, Belgium, site to test production of ABS plastic from recycled feedstock. The plans for the new plant are part of the project "ABSolutely Circular", which is supported by the EU LIFE programme. The plant is intended to complement a demonstration unit planned by project partner Indaver, making Antwerp the leading European centre for the recycling of styrenics.
Pyrolysis of Mixed Plastic Waste
In this method, mixed plastic waste is converted to an oil via a thermal cracking process. The resulting oil is further purified and processed, then used as feedstock in steam crackers to produce the base molecules (ethylene, propylene, butadiene, benzene) for polymer production. This recycling method is developing rapidly and INEOS is at its forefront. The advantage is that it can process a wide range of post consumer mixed plastic waste that could not otherwise be recycled, and would end up in landfill or be burnt.
We have recently demonstrated the technology at commercial scale by feeding oils derived from mixed plastic waste to our large olefin unit in Koln. The process and resulting products have been certified by an independent accreditation body.
Our intention is now to build several new pyrolysis recycling plants in partnership with the technology developer Plastic Energy.
GASIFICATION
Mixed plastic wastes can also be converted to a synthesis gas which can then be further converted into polymers and other polymers. We are exploring this approach with Academic and Industry partners because it may provide a large scale, flexible, cost effective way of reusing difficult to recycle mixed waste streams.
Gasification offers the highest flexibility and scalability in terms of waste, feed and recyclate. However, it requires significant investments and development, for which joined industry collaboration will be needed.