Our SHE Policy
We aim to meet or exceed all relevant legislative requirements while minimizing the effect of our operations on the environment. We continually strive towards a goal of 'zero injuries' through our positive safety culture and the belief that all accidents are preventable.
We care...
About the safety, security, and health of our workforce, customers, suppliers and neighbours,
About the environment, today and tomorrow,
About compliance with the law,
About developing a workforce of SHE champions
We hold ourselves and one another accountable for SHE performance.
Performance and Reporting
To achieve our objective of "zero injuries", INEOS requires all employees and contractors who work under our control to adhere and contribute to the ongoing development of our strict safety, health and environmental standards and procedures.
By making safety, health and the environment an integral part of our business, we encourage a culture of continuous improvement across all activities in all locations.
INEOS Group CLASSIFIED injury Rate (employees and contractors) – see below: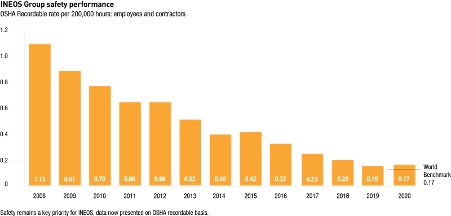 Culture of Safety
It is the responsibility of everyone at INEOS to ensure the highest standards of health and safety in everything that we do. Our commitment to safety starts at the top, with the Executive Board of each INEOS business being responsible for safety performance. All employees and contractors receive extensive safety training, participate in safety teams, contribute to incident learning, and suggest ongoing improvements in safety standards and procedures.
The INEOS safety principles define what is expected of all our employees, contractors and businesses on a day-to-day basis. Each INEOS business is measured on its adherence to the principles and on its performance against specific safety targets. Safety performance is also linked to our employee bonus scheme, which further helps to embed a safety culture.
We focus our attention on safety in both the processes we apply and the behaviour we expect.
Systems and operational procedures have safety built in to ensure the plant and equipment is being operated properly. Any changes in processes or procedures are subject to a risk assessment and, if necessary, a hazard study to analyse any potential safety risks or impacts. We have strict emergency procedures, and if required, the plant will be shut down completely until an issue can be fully resolved.
Everyone has a responsibility to ensure a safe working environment for themselves and their co-workers, and speaking up about safety issues is encouraged. This extends to incentivising employees to report near misses. We can learn from these and implement corrective action to ensure such incidents are never repeated.
The success of our business depends on ensuring a safe environment for our staff and the wider community around each of our sites, which is why safety is our highest priority.