The Journey to Net Zero
INEOS Grangemouth continues to benefit from significant investment that heralds a new generation of clean, efficient petrochemicals manufacture. Investment that creates jobs directly for 2,000 INEOS/Petroineos employees while supporting jobs at local suppliers and contractors that represent a further 10,000+ jobs bringing direct benefits to the Scottish and UK economies.
The Grangemouth site has a rich heritage and a history of engineering breakthroughs that continue to this day. The presence at the site dates back to the 1920s, and today INEOS has the responsibility to ensure that Grangemouth is fit for the next generation – an era in which sustainability and success continue to go hand-in-hand.
Since acquiring the diverse array of facilities and functions INEOS has been rejuvenating operations to drive efficiency, increase productivity and reduce emissions from the combined operations. Over £1bn has already been invested in the plant and its infrastructure, and we are spending in the region of £1bn on further improvements to the site.
INEOS are committed to Grangemouth's future. We are working together with the Scottish Government towards net zero– creating new opportunities, protecting jobs, and investing in innovation across our operations.
Evolving for a new generation
North Sea Gas production declined by 60% over the last decade, demanding that we enable a new secure source of our basic raw material (ethane) from outside the UK.
The transformational value of the £450m investment in the Ethane Supply Project secured Grangemouth's future and simultaneously drove down GHG emissions associated with the manufacture of every tonne of our core products.
Operational reliability goes hand-in-hand with process efficiency. Our investments in infrastructure and the talent to run these state of the art plants means that we are driving down emissions year-on-year, creating a sustainable future for the site.
Our Renaissance has turned around the fortunes of the site, enabling the continuing recruitment and training of the next generation of skilled employees required to maintain our long-term presence in Grangemouth and to provide the products necessary for manufacturing in Scotland, the UK and beyond.
INEOS 2030 VISION: "OUR JOURNEY TO NET ZERO"
Grangemouth is characterised by progressive change, driven by new technologies, new investments and new solutions to new challenges – this is a heritage that INEOS embraces and that drives our ambitions.
We share the vision of all our stakeholders, including the Scottish and UK Governments, of a pathway that guides us to evolve and continue to drive efficient operations on a shared obligation to meet the Paris Climate Change agreement.
This is "Our journey to net zero".
The Grangemouth site has begun a new chapter in our Renaissance. We continue to invest in "future-proofing" our manufacturing facilities, building a renewed modern infrastructure that rests securely on the foundations of our past. This enables us to simultaneously look forwards and build the next generation of engineering talent driving continued economic success.
Our mission protects the long-term value and advances the investment potential of Grangemouth. We are creating a global chemical and sciences manufacturing centre of excellence, driving innovation for Scotland. We believe that the "Just Transition" will transform the industrial landscape of Scotland, securing competitive advantage and opportunity for new technologies and new partners to relocate and invest on the Grangemouth site.
INEOS Grangemouth will build on a Century of Progressive Change, continuing a journey of transformation that leads to brighter futures for all our stakeholders. At every step in our journey, innovation and technology have been and will remain the twin turbines of manufacturing progress and economic prowess. These strengths characterise and reflect the tenacity and ingenuity of our people, both local and international, who make it happen.
In the last 3 years, we have announced investments in the Grangemouth facilities of around £1 billion. These investments will rejuvenate the pipeline system that brings North Sea Oil to the processing plants where it is transformed from crude oil into valuable fuels and chemicals as well as upgrade many of our existing plants. The investments will continue to advance our capabilities to transform raw materials into the safe and sustainable products that serve modern society creating meaningful benefits for people in their everyday lives.
INEOS is committed to being a good neighbour to the people of the local communities in Grangemouth, Falkirk and Bo'ness – we count on local people to staff our facilities, whether they are direct employees or working for the many local contractors who are our partners in progress. These investments also allow them to plan for a productive future.
NEW ENERGY PLANT (NEP)
A huge part of our net zero Roadmap is our investment in this state-of-the-art future-ready energy plant. When commissioned it will and allow us to replace technology which is no longer efficient nor ready to take us on the journey to net zero.
The NEP project creates an energy transition bridge from the past to the future; the state-of-the-art power plant will replace aging infrastructure that has been providing steam and power to the refinery and petrochemical plants for well over 40 years. The fuel source will be mixed gas, sourced from within the Grangemouth Complex via pipe infrastructure. The design criteria provides the option to use hydrogen. A zero carbon fuel that is expected to become increasingly commonplace as new investment in the UK-wide hydrogen infrastructure increases availability.
The complex pre-assembled units at the heart of the NEP are being constructed using the very latest engineering designs. INEOS process architects have used extensive computer simulation to create an efficient energy facility that will reduce emissions across the Grangemouth facilities.
Though the COVID19 pandemic has slowed our plans, work continues and 3D simulations are already helping us design continuous improvement into our future operations. Construction is now scheduled to complete in 2023, with a peak workforce of around 300 skilled workers as final construction integrates the facility into the existing infrastructure.
Emissions reduction in a full year of operations are envisaged as being 200,000 tonnes CO2e per annum.
NEW BUSINESS HQ
During 2015 INEOS unveiled plans to build a new state of the art business HQ in Grangemouth as part of an ongoing investment in its 1,700 acre estate. In the space of just twelve months the construction phase was completed and the building keys handed over.
The new £20m building was designed by one of Scotland's leading architectural practices, Michael Laird Architects, and was built by BAM Construction.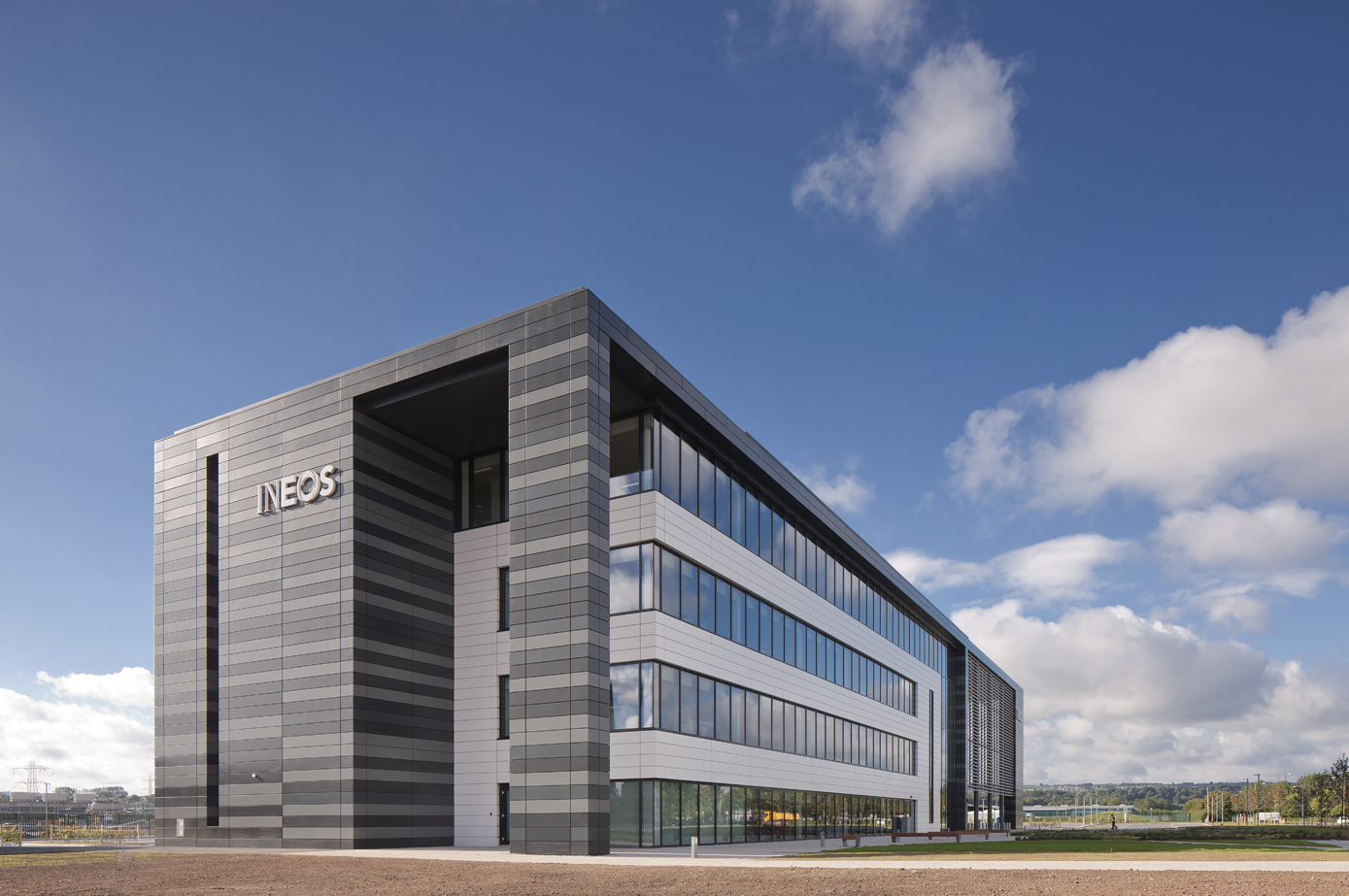 Providing high quality office space over four floors, for the first time in many years, the business at Grangemouth has now brought its employees together in a way that suits the new business operation. It will improve productivity and collaboration with a single office that is built for today's business needs.
The HQ building includes meeting rooms and conference facilities located on the ground floor, and three floors of open plan office space above. The investment is good for INEOS and the local businesses that have benefited from the investment and the long-term, skilled jobs at the site. And along with the construction of the new building, INEOS is also undertaking a programme of clearing the site of old unused buildings and decommissioned plants.