Graben area export line (GAEL)
The Graben Area Export Line (GAEL) is made up of two sections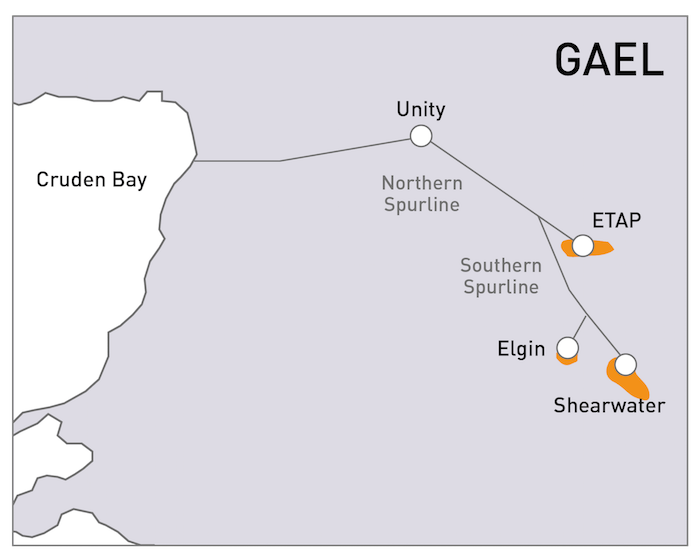 The Northern Spurline, a 75 kilometre (km) long 24-inch pipeline running from the base of the ETAP oil export riser via a wye (the connection of the Southern Spurline) located 3 km from ETAP to the base of a riser on the INEOS Forties Pipeline System (FPS) Unity platform entry point to FPS.
The Southern Spurline, a 38 km long 24-inch pipeline running from a subsea isolation valve assembly (SSIV) 250m from the Elgin Platform via a wye (the Southern Spurline wye assembly) located 2km from the SSIV to the wye on the Northern Spurline.
The Shearwater platform is connected to the Southern Spurline wye assembly by an 8km pipeline. A further wye (the Shearwater wye) is located adjacent to the Southern Spurline wye assembly and has a spare leg available to future connections.
GAEL is operated by INEOS FPS Limited and currently transports unstabilised oil from the ETAP, Elgin/Franklin and Shearwater platforms to INEOS's FPS. Subsequent transportation in FPS leads to the delivery of Forties Blend at Hound Point and raw gas at Kinneil.
The Northern Spurline was commissioned in 1998 and the Southern Spurline in 2001 and it is expected that GAEL will remain in service to at least 2040.
Both the Northern and Southern Spurlines are divided rights systems and each of the owners has a divided capacity right. Any third party interested in transporting oil through either of the GAEL spurlines should contact:
The System Operator (INEOS FPS Limited) for further technical information; and
Each of the owners to discuss commercial terms and availability of capacity in that owners divided capacity right.

The contacts in each company are as follows:
INEOS FPS Limited (System Operator and Capacity Owner)
Sue Lawie
GAEL Business Manager
INEOS FPS Limited
Suite 2, Second Floor
Prime View
Prime Four Business Park
Kingswells
Aberdeen
AB15 8PU
susan.lawie@ineos.com
Tel: 01224 084422
Chrysaor Limited (Capacity owner)
Peter MacDonald
Chrysaor Limited
The Capital, 431 Union Street
Aberdeen
AB11 6DA
peter.macdonald@chrysaor.com
E.F. Oil and Gas Limited (Capacity owner)
Moira Reid
TotalEnergies E&P UK Limited
Total House, Tarland Road
Westhill, Aberdeen
AB32 6JZ
moira.reid@totalenergies.com
Eni Elgin/Franklin Limited (Capacity owner)
Roberto Martignoni
Eni Elgin/Franklin Limited
Ebury Bridge House
10 Ebury Bridge Road
London
SW1W 8PZ
Roberto.martignoni@eni.com
Esso Exploration and Production UK Limited (Capacity owner)
Jon Sonka
Esso Exploration and Production UK Limited
ExxonMobil House
Ermyn Way
Leatherhead
Surrey
KT22 8UX
jon.k.sonka@exxonmobil.com
Ithaca Oil and Gas Limited (Capacity owner)
Mark Edgerton
Ithaca Oil and Gas Limited
Hill Of Rubislaw
Aberdeen
AB15 6XL
medgerton@ithacaenergy.com
ONE-Dyas E&P Limited (Capacity owner)
Robin Tromp
ONE-Dyas E&P Limited
UNStudio, 7th Floor
Parnassusweg 815
1082 LZ Amsterdam
The Netherlands
robin.tromp@onedyas.com
Premier Oil E&P UK Limited (Capacity Owner)
Rob Gaskell
Premier Oil E&P UK Ltd
Prime Four Business Park
Kingswells
Aberdeen
AB15 8PU
rgaskell@PREMIER-OIL.com
Shell UK Limited (Capacity owner)
Charles Cole
Shell UK Limited
1 Altens Farm Road
Nigg
Aberdeen
AB12 3FY
charles.cole@shell.com
Summit Exploration Limited (Capacity owner)
Rebecca Maguire
Summit Exploration Limited
23 College Hill
London
EC4R 2RP
rmaguire@summiteandp.com
TotalEnergies E&P UK Limited (Capacity owner)
Moira Reid
TotalEnergies E&P UK Limited
Total House, Tarland Road
Westhill, Aberdeen
AB32 6JZ
mailto:moira.reid@totalenergies.com
Infrastructure Specific Information (DOCX 74 KB)