Panalane Hydrogenated PIB
Below you will find information on Panalane® products.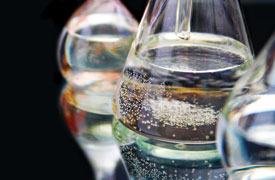 Documentation for all products is accessible via our "VIEW OUR PRODUCT RANGE" link. For any additional technical information, please e-mail us at oligomersinfo@ineos.com
Panalane® hydrogenated polybutene is the polymer of choice when very high chemical and oxidative stability and very low odor are essential.

Panalane is made via hydrogenation of Indopol® polybutene, which removes most of the double bonds (as evidenced by the very low bromine number). Otherwise the physical properties of Panalane grades are similar to Indopol polybutenes, and they can be easily emulsified.
Panalane grades are used to formulate many personal care products, where their very high purity makes them candidates to replace squalane, fatty esters, and other emollients and expensive oils. Panalane grades are bright, clear, viscous liquids with outstanding feel, waterproofing properties and moisturizing ability. This makes them ideal for use in cosmetics, sunscreens, lip preparations, eye shadow, stick and roll-on deodorants, creams and lotions. Panalane grades are economical in cost allowing them to be used to upgrade the quality of personal care products currently formulated with mineral oils.
The key properties that make Panalane polybutene a versatile cosmetic base oil include:
Clear, water-white
Odorless
Easily emulsified
Non-flammable
Non-comedogenic
Non-irritating to eyes and skin
Non-drying oil
Waterproofing
Moisturizing
Enhances SPF retention after water exposure
Panalane is stable:
Across the pH range
At temperatures up to 500°F / 260°C
To oxidation
To chemical attack