INEOS' ambitious plans to build a no-nonsense, robust 4x4 have turned another corner.
It recently announced that its new off-roader will be powered by BMW's latest generation of TwinPower Turbo petrol and diesel engines. Dirk Heilmann, CEO of INEOS Automotive, commented "Simply put, BMW builds the best engines in the world. Its petrol and diesel engines offer great durability and unquestionable quality, not to mention high performance and efficiency. We are building an uncompromising working 4x4 and there is no better choice under the bonnet than a BMW engine."
"This technology partnership is a very significant milestone for Projekt Grenadier," added Mark Tennant, Commercial Director of INEOS Automotive. "It's a partnership that clearly signals our intent. Having BMW alongside us makes a strong statement to the rest of the industry."
Off the back of this announcement, in early April INEOS Automotive held an open day for suppliers in Stuttgart, Germany, with the aim of introducing the company, its values, and the story of Projekt Grenadier so far. "Following the powertrain decision, we are now moving ahead with the nomination of suppliers for other major components," said Oliver Frille, Director of Procurement at INEOS Automotive. "This supplier day, attended by our engineering partners, MBtech and Magna as well as BMW, allowed us to showcase the ambition of the project to a room full of world-class potential partners in the automotive supply chain."
The event was attended by over 200 people from 100 different companies representing all major component areas of the vehicle. As well as sharing the 'Projekt' philosophy and planning assumptions, Tom Crotty, Group Communications Director, was on hand to introduce INEOS Group – leaving the audience with the story of the Dragon Ships as a great example of supply chain partnerships, the INEOS way.
Since the plans to build its own 4x4 were first hatched over a pint in The Grenadier, the London pub close to INEOS' HQ in 2016, INEOS Automotive has grown into a fully-fledged international company with bases in the UK and Germany. With a permanent staff of 50 (and growing) at its London base, the team have this April opened a new office in the automotive centre of Böblingen, Germany, to host its design, engineering and procurement teams. The INEOS Automotive office is adjacent to that of MBtech, lead engineering partner for Projekt Grenadier and a former subsidiary of Mercedes Benz. MBtech now has some 200 engineers working full time on Projekt Grenadier.
With two years to go until launch, much remains to be done but the project is making great advances across a broad front. Says Dirk Heilmann: "Chassis and suspension work is ongoing in Austria using our first 'mule vehicle'; the exterior design is all but finalised, with the interior now progressing well also; following BMW, supplier nominations are now beginning in earnest, and we are now very close to announcing our choice of manufacturing location."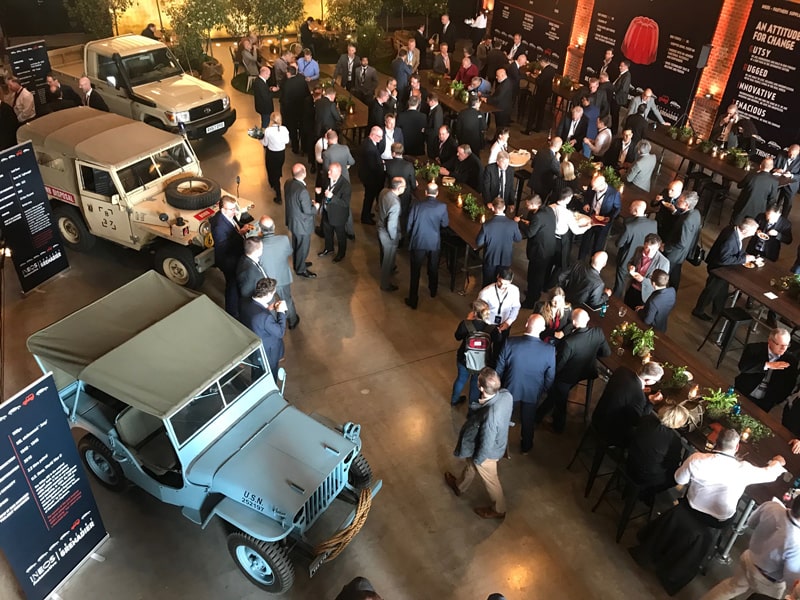 Invitees to the Projekt Grenadier supplier day had the chance to hear about Projekt Grenadier, INEOS Automotive, and the original offroaders inspiring its new 4x4.
Keep up to date with Projekt Grenadier's journey online.