After months and months of speculation, the covers have finally come off The Grenadier, INEOS' rough, tough 4 x 4. It's a huge milestone for the team at INEOS Automotive who have been itching to show it off to the world.
"Most manufacturers would hold back, but we are a new business, building a new brand, and we want to take people with us on this exciting journey," said CEO Dirk Heilmann.
He said it also meant the team could now openly test it without the need for camouflage wrapping, foam blocks or fake panels. Over the next 12 months prototypes will rack up more than one million miles (1.8 million km) as its durability and capability is tested in all conditions.
"We have a challenging programme ahead," said Dirk. "But showing the design now allows us to focus on this critical next phase. Since day one, our philosophy has been function over form, every time."
The Grenadier is due to go on sale late next year and expectations are high. "Our customers will be living and working in their vehicles so they know what they want from them," said Dirk.
Design
The Grenadier has been designed rather than styled. It combines practicality and purpose with unmistakeable character. From the no nonsense boxy body and exposed hinges to the iconic circular lights. 'We're considered every square millimetre,' says Toby Ecuyer, head of design.
Rear Doors
The Grenadier's rear doors are a 70/30 split of the back of the vehicle and open independently. That means you can quickly load and unload smaller tools, while also being able to open both doors for maximum access. A rear-mounted spare wheel maximises ground clearance.
Wheels
The Grenadier's wheels are as close to the corner of the vehicle as possible, with very little overhang at the front and rear. That means you get the approach and departure angles needed for off-road performance.
Discover more: www.ineosgrenadier.com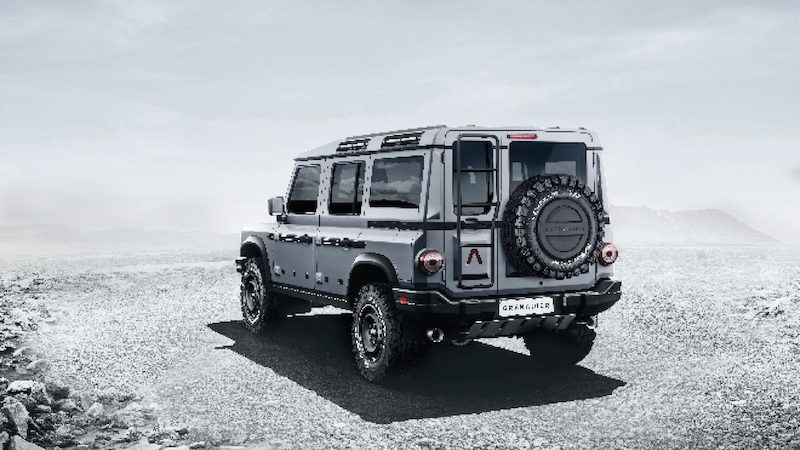 It was an opportunity to raise the bar that INEOS founder Sir Jim Ratcliffe simply couldn't resist. Why shouldn't INEOS build a spiritual successor to one of the most iconic 4 x 4s on the planet? What was stopping it? As he and his colleagues walked out of that London pub, they had a dream.
A dream that has now become a reality.
They serve one of Yorkshire's finest beers at The Grenadier, a small pub in the heart of London. It's a convenient place just around the corner from INEOS' headquarters for Jim Ratcliffe to pop in for a pint and a chat with a few colleagues. Over a glass of Timothy Taylor's, they lamented the demise of Land Rover's iconic Defender. That single comment ended in the group walking out with a £600 million plan to build its spiritual successor. And what better name to choose for it, than where the idea was born . . .
The Grenadier? So that's what they have called it.
Toby Whitehead, who has been landlord of The Grenadier for 10 years, is incredibly proud of the pub's role in inspiring INEOS' rugged, stripped-back 4 x 4. "It's already a world-famous pub because of its history," he said. "But we feel very proud of the part we have played in this story."
The Grenadier, though, was originally known as The Guardsman when the pub opened in 1818. It later changed its name as a mark of respect to a Grenadier soldier who was murdered for cheating at cards.
On the ceiling are £5 notes, pinned there by visitors in an attempt to pay off the soldier's debt. Among them is a note from Jim who had drawn two Land Rover Defenders on it.
Over the years scores of famous faces, including the late Hollywood star Burt Reynolds, singer Miley Cyrus and actor Will Ferrell have passed through the doors of the pub. "Jim's in good company," said Toby. That, though, was almost three years ago.
In July, The Grenadier – the 4 x 4 they had talked of building that day – was finally unveiled. Jim had always had a very clear vision of what he hoped it would look, and feel, like.
Tom Crotty, INEOS' Communications Director, remembers that first phone call when told of the plan."I was surprised," he said. "I knew Jim liked new things. But this was totally different. But then, given Jim's love of the Defender and his commitment to manufacturing, it wasn't actually that surprising."
Initially eyebrows were raised at INEOS' decision, with no experience, to build a car from scratch. "I am convinced people expected us to fail because it would have been a challenge for the car industry to launch a new car," said Tom. "But for the chemical industry to attempt it? That was seen as crazy."
Undeterred, Tom and his team invited people regarded as the world's best car designers to a 'beauty pageant'. The best were selected to present their findings to Jim.
These were experts with a clear vision of the direction of travel for the car industry. The ones who knew what the public would want. "That meeting didn't go well," said Tom. But that meeting showed any doubters that INEOS was serious about this. It had to be exactly right. And what Jim had been shown, certainly was not what he was looking to create.
"We were coming at this from scratch so we were not bound by the traditional thinking of the car industry," said Tom. "We weren't interested in sat nav, autonomous driving and cruise control."
Instead Jim turned to a trained ship's architect who had never designed a car. Toby Ecuyer was creative director of British design studio RWD and had designed Jim's yachts, Hampshire II and Sherpa.
He liked to design using paper and pencil, and a rubber, not a computer. He was also a big fan of the Land Rover Defender and, as such, understood its unique appeal.
"I love the fact that The Defender was classless," he said. "I really like people like that. People who are comfortable having tea with the Queen one minute, then rolling their sleeves up the next to mend a fence. To me a Land Rover Defender was all of those things."
Designing The Grenadier was engineering-led. Its performance mattered more than anything. "Certain aspects we could get very creative with and worked very closely with Jim and Sebastian in Germany," said Toby. "We would suggest, interpret and develop ideas.
"I have no idea exactly how many designs we have done. Every aspect of the vehicle was thoroughly designed so we produced thousands of drawings."
Tom believes The Grenadier will succeed because of the passion, dedication, determination and meticulous attention to detail shown by all those working on the project.
Toby feels that too. "I'm very proud to have played my part in this," he said. "But it was a Herculean effort by dozens and dozens of very talented people to bring this life."
Projekt Grenadier – as it was known – was spearheaded by Dirk Heilmann, a former head of Engineering and Technology at INEOS O&P.
He too had no experience of the car industry but crucially understood INEOS' mindset and the fact that INEOS is not a typical blue chip company.
As CEO of INEOS Automotive, though, he needed someone with commercial clout. That someone was Mark Tennant who had the commercial know-how and industry experience.
"We knew straightaway that he was the right person," said Tom.
Over the past three years, they have led and motivated an international team of specialists with a shared vision of designing and building an uncompromising 4 x 4 that is capable of mastering roads, crossing rivers and climbing mountains.
About 60 companies are involved. All of them are top notch.
Austrian engineering firm Magna Steyr has over a century of experience developing some of the world's toughest off-road vehicles. Its engineers have designed and built The Grenadier's suspension set-up that will meet the needs of people who use their 4 x 4s for work every day.
"We fatigue tested for hundreds of hours on the test rig which simulates 300,000 km off road use," said Matthias Maier, development engineer.
The Grenadier's suspension set-up is completely free of electric components so it is robust and easy to maintain. To perfect it, the team dissected the world's most renowned off-roaders, benchmarked them and then combined the very best engineering ingredients to create something even better.
And Carraro, with a long history in building tough 4 x 4 vehicles, has developed the front and rear axles.
The Grenadier, which will be powered by BMW's latest 3.0-litre petrol and diesel engines, is expected to go on sale next year.
"We were told many times that what we were doing, could not be done," said Dirk. "But that was a nice little incentive for me."
'It was a Herculean effort by dozens and dozens of very talented people to bring The Grenadier life' – Toby Ecuyer, head of design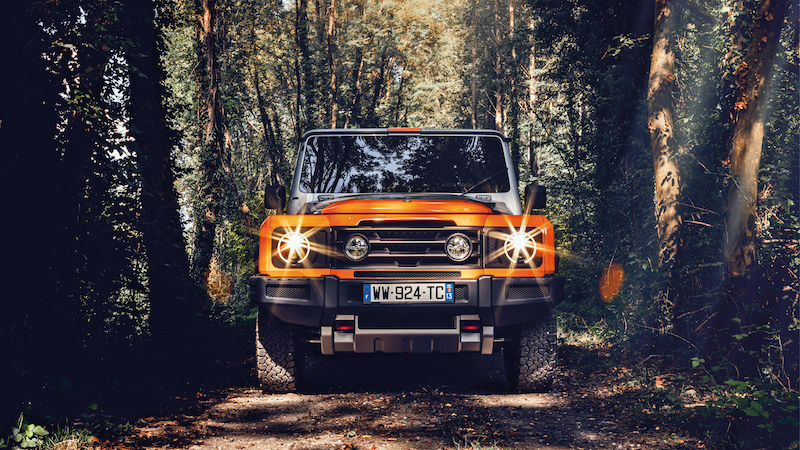 TOBY ECUYER left school with his teachers' poor assessment of him ringing in his ears. "I wasn't especially good at anything at school," he said. "They suggested the best I could hope for was a job in a factory packing shampoo." Today, Toby is not only one of Britain's best superyacht designers, but he is credited with creating the design on a bit of paper that inspired INEOS' no frills' Grenadier – despite the fact that he had never designed a car.
Toby was brought in after INEOS founder Jim Ratcliffe rejected the motor industry's expert view of what his new 4 x 4 should look like.
"It was a departure from yachts but not as big a departure as it might seem," said Toby.
It was only after he left school and spent a year on a youth training scheme, that his aptitude for design was spotted – and he was encouraged to apply for a foundation course at South Devon College of Arts.
There he discovered an amazing talent for design. "My lecturer pushed me to excel and was adamant that I should be an architect," he said.
With his lecturer's support and a strong portfolio, Toby gained a place at The Plymouth School of Architecture, run by Professor Adrian Gale.
"I was accepted on the course with no qualifications at all other than a cycling proficiency certificate and a Blue Peter badge," he said.
It was while he was in Plymouth that he learned to sail and later took up sailing professionally in the Mediterranean.
When he returned to the UK, he got a job as a junior designer in EPR architects but missed the water.
By chance he saw an advert in Yachting World for a designer, who needed to be able to draw, but no experience was necessary.
"That was the start of 20 years designing boats," he said. "I was in my element. I loved the amount of detail that was involved and the breadth of design scope. Quite often I would design the interior, exterior, the furniture, the ironmongery the tableware, the cutlery, the crew uniforms, even luggage, and board games."
When Jim met him, Toby had become creative director at RWD. With Jim's help, Toby went on to design the interior of his superyacht Hampshire II and both the interior and exterior of Sherpa.
"I prefer to draw on paper because it's instant," he said. "It's a straight path from brain to page.
"It's really magical to be able to sit with someone and turn that picture in their mind into more than just a thought."
Farmers' Army
INEOS Automotive has not just been focused on building the world's best 4 x 4. The team has also helped UK farmers to recruit a modern-day 'land army' to harvest millions of tonnes of fruit and veg that was in danger of rotting in the fields.
Dirk Heilmann, Chief Executive Officer of INEOS Automotive, said UK farmers had been facing their biggest challenge since the foot and mouth disease. "They needed 80,000 people to complete their harvests," he said.
INEOS helped Farmers' Weekly to establish and promote a recruitment website, allowing people to search for harvesting jobs and other roles near their own homes. Farmers could advertise jobs for free on The Farmers Army website www.thefarmersarmy.co.uk, by calling 020 8652 8638 or emailing recruitment.services@rbi.co.uk 
The Grenadier has been designed by a internationally recognised product designer who prefers to use a pencil and paper.
A trained architect, and former partner and Creative Director at RWD, Toby has designed, custom built and tailored super yachts for clients all over the world with fastidious attention to detail.