A COUNTRY famed for producing the world's best distance runners could soon be making real headway – in the world of cycling.
Eliud Kipchoge, the 5ft 4 Kenyan athlete who made history on the streets of Vienna by running a marathon in under two hours, has teamed up with INEOS to launch a cycling academy at the renowned Kaptagat camp where he trains.
"This is very great news," Kevin Richie Preacher posted on Facebook. "I can foresee a Kenyan continental team coming up very soon."
The INEOS Eliud Kipchoge Cycling Academy will be headed up by Valentijn Trouw, who was heavily involved in the record-breaking INEOS 1:59 Challenge in Austria in 2019.
Also involved will be the INEOS Grenadiers, one of the world's most successful cycling teams.
Sir Dave Brailsford, INEOS' Director of Sport and Team Principal of INEOS Grenadiers, said the new academy could help to develop new riders from Africa.
"We all know the talent is there," he said. "We have seen it this year."
In March Biniam Girmay became the first black African to win a World Tour race at Belgium's Gent-Wevelgem classic.
Two months later he made history as the first black African winner of a Grand Tour stage in the Giro d'Italia.
INEOS Chairman Sir Jim Ratcliffe recently visited the Kaptagat-based training camp.
"There is such exciting sporting talent, passion and ambition in Africa," he said. "I am convinced that this partnership can do something truly different and unique for cycling – as well as for aspiring young African athletes."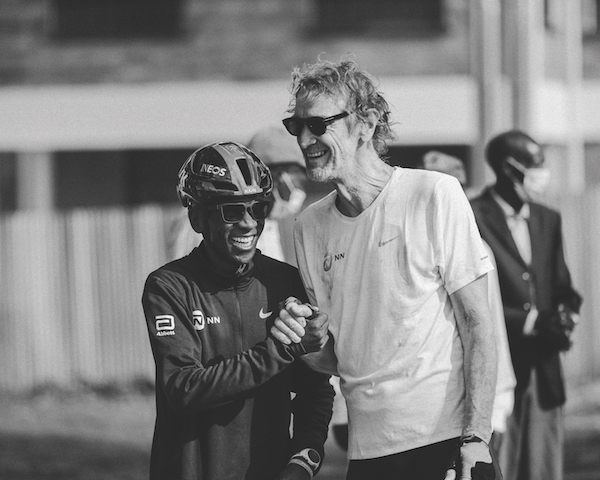 For more than 30 years Valentijn, who will work with the wider Kaptagat team, has identified and nurtured long-distance runners in Kenya, creating a pathway for them to compete on the world stage.
"Their passion, dedication and love of sport is a perfect fit with the INEOS Grenadiers' spirit of giving it all to race and be your best," said Dave. "Together I believe we can achieve something unique and important for cycling in Kenya, Africa, and the sport itself."
Eliud, who will be seeking to make history in Paris 2024 by winning his third successive Olympic men's marathon, said he was proud that the camp would no longer be a purely athletics-focussed training camp.
"The cycling academy is a very natural fit," he said. "It's got great potential to enable our young talented cyclists to make the next steps towards the top level of cycling."
Valentijn said he, too, was excited at what could be achieved by working with INEOS and the INEOS Grenadiers cycling team.
"It is an opportunity to build a relatively new sport in Kenya and bring together our collective knowledge and insights from running and cycling for the benefit of the sport," he said.
'We all know the talent is there. We have seen it this year' – Sir Dave Brailsford, INEOS' Director of Sport and Team Principal of INEOS Grenadiers
INEOS and Eliud Kipchoge share a passion. They both believe that no human is limited. So it was only a matter of time before they linked up again.