THE eyes of the world will be watching when the United States stages the World Athletics Championships for the first time. Hoping to attract some of that attention between July 15 and 24 will be The Daily Mile, which has been named as an official event supporter.
A film extolling the physical and mental benefits of this INEOS-backed initiative will be regularly shown in the stadium during breaks in the competition.
And Daily Mile banners will adorn the inside of Oregon's Hayward Field, one of the greatest track and field stadiums ever built.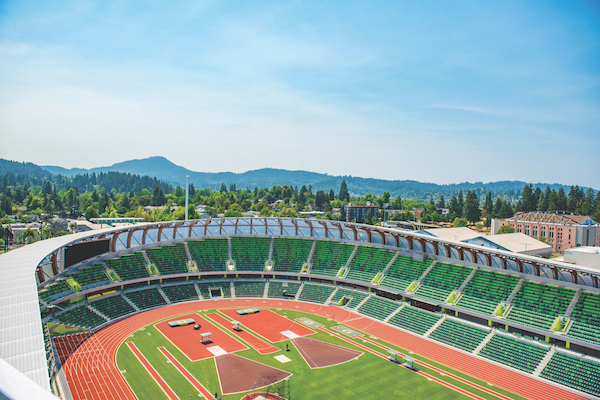 "We are hoping to encourage children in Oregon, the rest of the US and across the world to take part in The Daily Mile," said Elaine Wyllie, who founded the initiative 10 years ago to help improve the fitness of pupils at her primary school in Scotland.
Today – with INEOS' support – more than three million children around the world now regularly run, walk or jog The Daily Mile.
"As childhood becomes more sedentary than ever, we're proud that The Daily Mile has helped those children get up and running because we know that the positive experiences we have at a young age shape habits for life," said INEOS Chairman Sir Jim Ratcliffe.
About 2,000 of the world's greatest track and field stars from more than 200 nations – along with thousands of fans from around the globe – will be heading for the USA this summer.
As part of the 100-day countdown to these historic Championships, children in Portland ran The Daily Mile for the first time as part of the World Wide Welcome Youth Relay.
Each leg of the relay will be dedicated to one of the global track and field teams who will be competing on US soil for the first time.
The Daily Mile has not only improved children's fitness. It has also led to improved performance in the classroom.
"It is free, simple and effective and fits into the school day easily," said Elaine.
Sarah Massey, CEO of the Championships' local organising committee, Oregon22, LLC, said The Daily Mile and the World Wide Welcome Youth Relay were a perfect match, and would be working together to show new schools and community groups across Oregon what they could do – for free – to improve children's fitness.
"Both programmes serve to encourage healthy activity in the younger generation, so we couldn't be prouder to collectively build this into the lead-up to these World Athletics Championships," she said.