Overview
The FPS 36 inch diameter subsea pipeline extends from the Forties Charlie platform via the Forties Unity platform to a landfall at Cruden Bay on the North East Coast of Scotland a distance of 169 kilometres. From there, the FPS landline, again 36 inch diameter, travels 209 kilometres south to the Kinneil Terminal at the Kerse of Kinneil, Grangemouth via three pumping stations at Cruden Bay, Netherley and Brechin which provide booster compression. Pipeline capacity is 610 mbd.
A 12 inch diameter buried landline running 25 kilometres from the Ancala Midstream SAGE and NSMP St Fergus gas processing facilities carrying natural gas liquids (NGLs) joins the FPS landline at Cruden Bay.
Processing, Storage and Export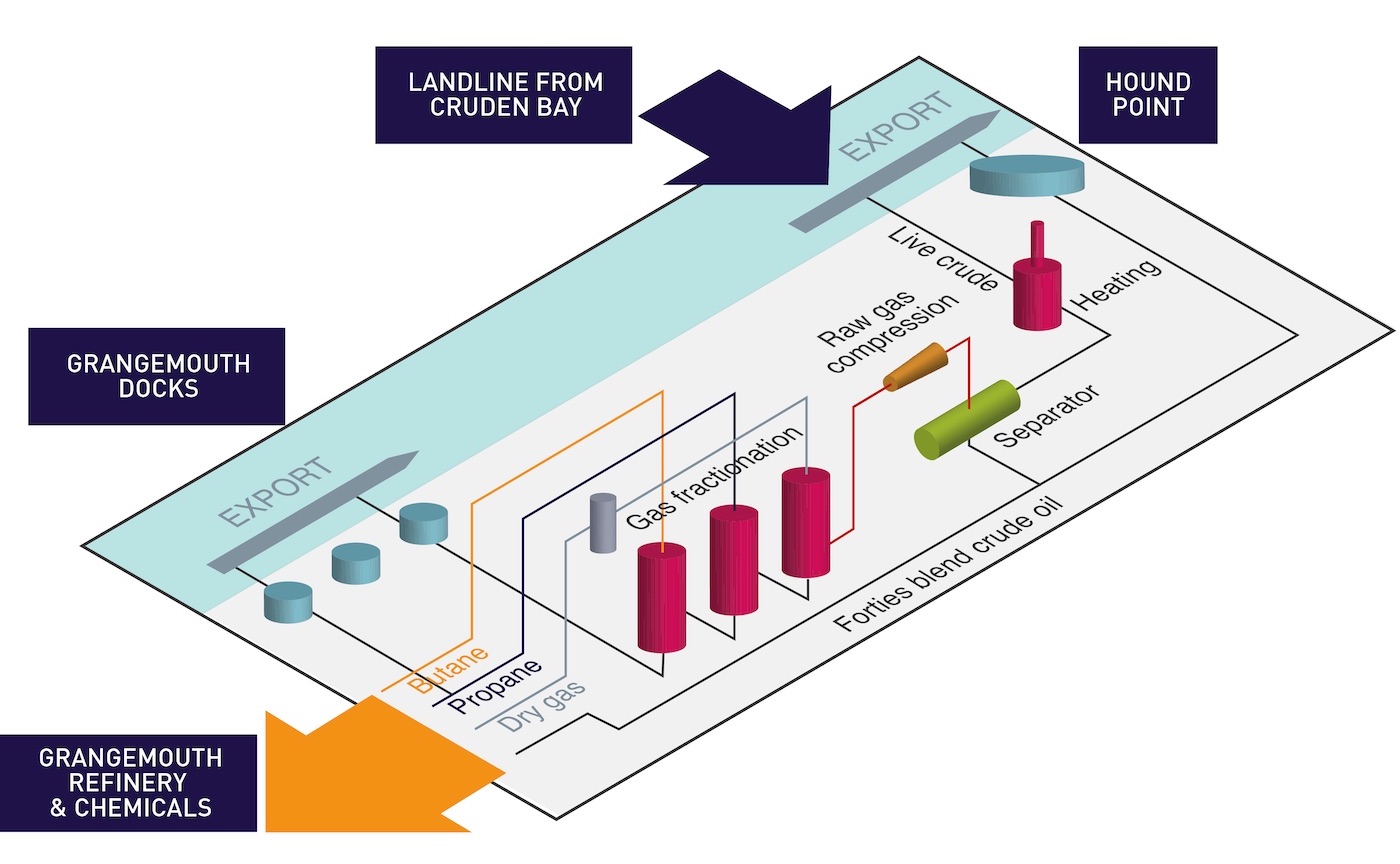 Crude oil stabilisation and gas processing and treatment is undertaken at the Kinneil Terminal. The Kinneil Terminal is capable of processing 775 mbd of unstabilised crude oil in three trains.
From Kinneil, a 30 inch landline transports Forties Blend stabilised crude oil 19 kilometres east to the FPS crude oil storage installation at Dalmeny at South Queensferry. Dalmeny has storage capacity of about 3 million barrels in six floating roof tanks. Two crude oil loading jetties at Hound Point in the Firth of Forth are connected the 5 kilometres to Dalmeny, by 48 inch and 40 inch loading pipelines. Crude can be loaded at up to 8,000 m3/hr over each berth.
Gas Treatment Facilities
Gas treatment facilities are comprehensive and this allows FPS to handle a range of sulphur based and other contaminants. These treatment facilities have been added to in stages in response to demand as new customers have tied into FPS. The Kinneil Terminal can process, fractionate and treat around 6,700 te/day of raw gas. Gas product distribution is flexible. Dry gas is consumed across the Grangemouth Complex as feedstock for petrochemical plants and as fuel gas. Propane and butane products are exported via pressurised storage at Grangemouth to the FPS Refrigerated LPG storage and export terminal at Grangemouth Docks. Refrigerated and pressurised storage capacity is 10,300 tonnes of propane and 9,700 tonnes of butane. There are several offtakes from the export system supplying users of LPG across the Grangemouth Complex. C5+ condensate is exported via Grangemouth Docks, with offtakes supplying users across the Grangemouth Complex.