INEOS AT THE FOREFRONT OF CYCLING TECHNOLOGY
INEOS is at the heart of the Tour de France. Its products are essential in the latest bikes and equipment, improving cycling performance.
Carbon fibre is made possible with our products and technology. We also make the chemicals necessary to make acrylic fibre, rubber tyres, paints and plastics. From brake shoes, to brake callipers, tyres, frames, forks, shoes, helmets, sunglasses and sunscreen, INEOS has played a role in their production.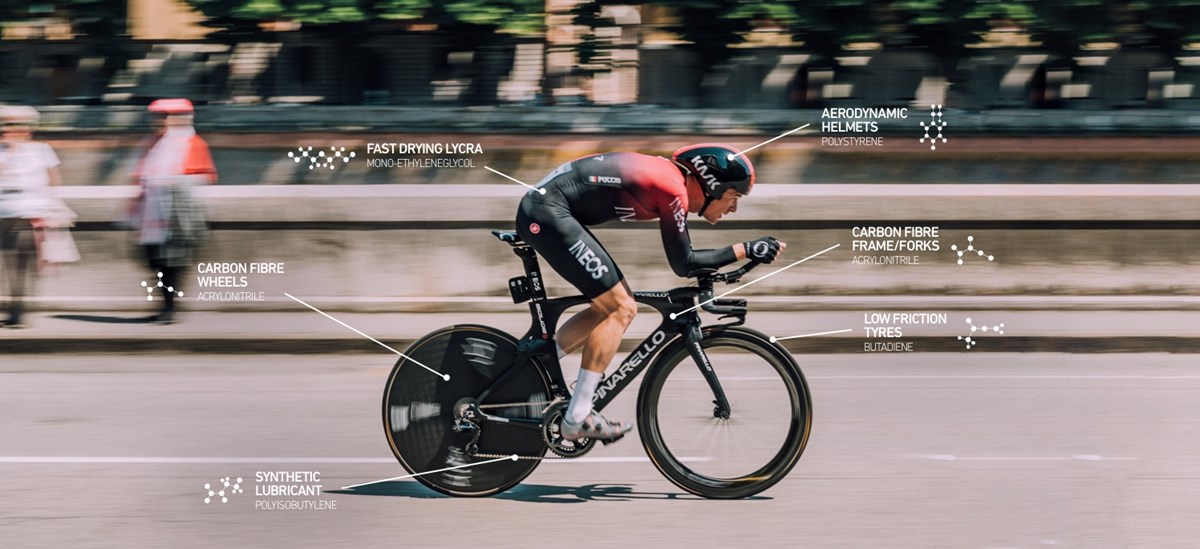 ---
Our acrylonitrile is essential to make Carbon Fibre, which is used extensively to make bike frames, forks, wheels and handlebars lighter, more rigid and responsive.
And if you have a more traditional bike polyisobutylene is used as a metalworking lubricant to roll, manufacture and form alloy frames and forks. It is also used in the manufacture of any other metal components such as the group set, drive train, cranks and brake calipers. Our synthetic lubricants are also used in the pedal crank and wheel bearings to help reduce friction, wear and tear.
When we've helped to make the frames and components we also help to make them look good. Our acetone used in paints give frames their unique styling. And for the finishing touches our isoamylene provides the stickiness in the glue for labels and branding.
Our polyisobutylene is also used in the bicycle rubber grips for the handlebars to provide the soft feel. And we make tackifiers for rubber tyres helping provide grip when you need it.
Phenol and acetone are key raw materials in the manufacture of polycarbonate, used as reflectors and lights as well as sunglasses frames and lenses. Phenol is also the key raw material for nylon intermediates used in tyres, wheel rims, clothing, and helmets.
ABS is used in the light weight casing of different electronic devices such as GPS systems and even into some high end performance helmets.
When things heat up our oligomers are used in sunblock and our Low Density Polyethylene (LDPE) food grade plastics are used to produce water bottles.
And that's not to mention how we make the products used in supporting the Tour, in most of the components that make up the support cars, medical equipment, food packaging, communications, clothing, luggage and much more.
Issue 16
AUG 2019
Issue 1
Dec 2011
Issue 4
SEP 2013