INEOS @ Grangemouth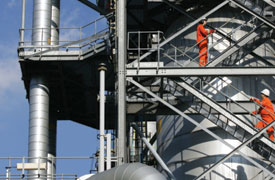 Grangemouth represents one of INEOS' largest manufacturing site by volume of products. It is home to Scotland's only crude oil refinery and produces the bulk of fuels used in Scotland.
Our world-scale petrochemical plants make around 1.4 million tonnes per annum of product, used as the building blocks in the manufacture of household items that society depends upon every day. These include synthetic ethanol, ethylene, propylene and polymers: polyethylene and polypropylene.
Our products are used extensively in the petrochemical industry and transformed into bottles and pipes, cabling and insulation, food packaging and are used in the pharmaceutical industry.
Bringing science to life
Information for visitors to the Grangemouth site
By Train
Polmont is the nearest station to site ~ 40 minutes walk. The train journey from Edinburgh takes ~30 minutes; from Glasgow ~25 minutes.
By Road
The Grangemouth site is located 25 miles west of Edinburgh, one mile north of the M9.
Heading northbound from Edinburgh, leave the M9 at Junction 5, signposted Grangemouth/Falkirk; from Glasgow/ Stirlingleave at Junction 5 signposted Grangemouth Industry/Bo'ness.
Please note: if using SATnav, the closest residential postcode is FK3 9UR
By Air
Glasgow Airport is ~40 miles from the Grangemouth site; Edinburgh Airport is ~20 miles.